You know that feeling you get when your partner goes out with his friends or co-workers and doesn't come home until the wee hours of the morning?
Most women have been there or know someone who has.
On most occasions, you're unsure if he's just having a good time or whether he is cheating on you. Thinking about it is heartbreaking, and you don't want it to be true.
This is why you're reading this article. You'd like to know what you can do to keep him from cheating.
This article answers your question. In today's post, we discuss 31 strategies on how to stop him from cheating. Practicing these strategies will allow you some peace of mind and relieve you of the constant worry that your partner is cheating.
Here's what you'll learn:
But before we get into the strategies, let's first understand why men cheat.
Why Men Cheat
Men cheat for different reasons.
For some men, it's because they want the thrill of an affair and don't think their current relationship is exciting enough. Some simply get bored with their partner after years together.
Some cheat due to an innate need to boost their ego. While some cheat due to the need for validation that they are still desirable.
And then there are those who feel like they're not appreciated by their partner anymore, which can lead to them seeking attention elsewhere.
When considering why men cheat, it's important to remember that a man may be in love with you but still cheat on you. Men don't cheat because they don't love you. It's often some underlying factor that drives men to cheat.
It's also important to remember that it's not your fault that a man cheated. You can't control someone's actions. All you can do is play your part to prevent him from being unfaithful.
And here are 31 ways on how to stop him from cheating.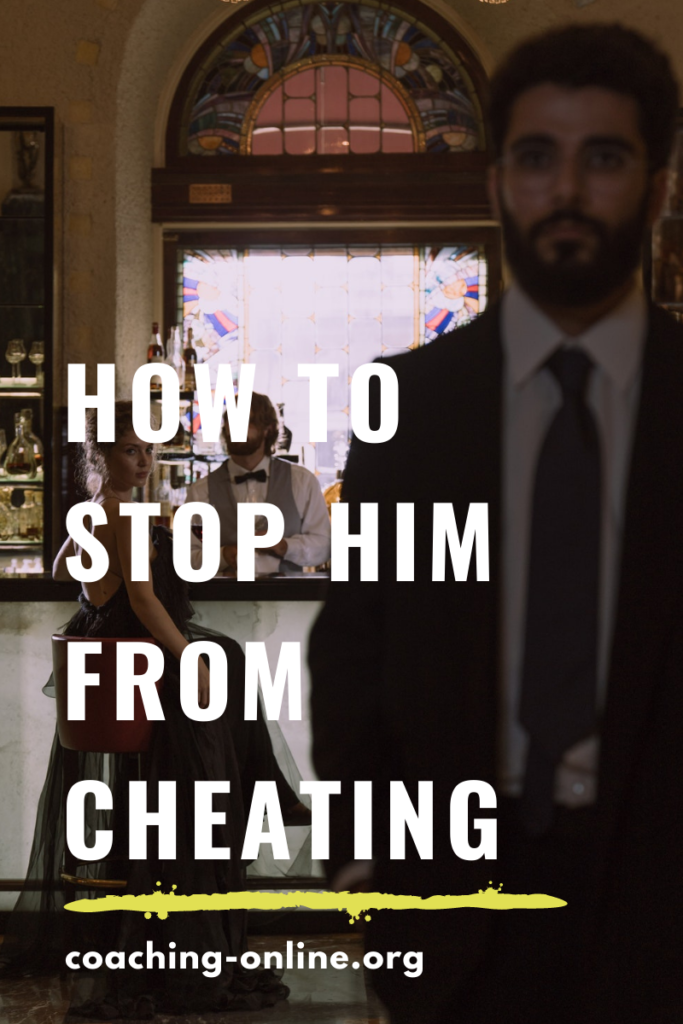 Related: What Does Cheating Say About A Person?
How to Stop Him From Cheating
#1. Have a Clear Definition of What Cheating Is.
This is a conversation you should have at the start of your relationship.
Different people have different definitions of cheating. You may consider flirting on social media as cheating, but to your partner, it's not.
So, before trying any of the strategies here, ensure you and your partner are on the same page regarding definitions of cheating.
While holding this conversation, be sure to tell him what you consider cheating and ask him to avoid those. If it's flirting with other girls on social media, ask him to stop it.
httpv://www.youtube.com/watch?v=oLq1ktogxn4
#2. Tell Him That You Trust Him
Once you define your relationship, make sure to tell your boyfriend that you trust him and ask him not to break your trust…
When you tell him that you trust him, he's less likely to cheat since he'll be afraid of breaking your trust.
If a man loves you, he'll always feel guilty whenever he breaks your trust. So, he'll try his best to avoid this.
And with trust comes our next strategy.
#3. Communicate Often
Trust goes hand-in-hand with communication.
The more open lines of communication there are between both parties, the less likely one partner is going to cheat. This is because you'll always talk out your issues and worries.
Communication also leads to a deeper understanding of how each person feels.
If you and your partner have the same feelings, there's no need for one party to cheat.
So, make sure that every day you're talking with him about how he feels and how you feel. And if something's off between the two of you, or if something needs to be talked out, don't wait! Communicate now!
#4. Prioritize your Relationship
As explained above, some men will cheat because they feel lonely in the relationship. Maybe you're too focused on your job, kids, or an ailing family member.
In response to this, your partner might go and seek companionship in the arms of another woman.
However, despite having different things in your life, make sure you prioritize your relationship.
Make sure your man doesn't feel lonely and neglected.
In our next strategy, we discuss one of the ways to prioritize your relationship.
FREE Coaching Tips!
Enter your email below to get access to my proven self-growth tips and strategies!
#5. Go for Dates
I once had someone say that the secret to a happy marriage was that they never stopped dating each other.
The problem with most people is that they get too comfortable when in a relationship for a long time. This often leads to boredom and, subsequently, infidelity.
One way you can avoid this is by having date nights regularly with your partner. Don't just leave the planning of dates to your partner. Take charge sometimes and allow your man to relax.
And here's the best part!
These dates don't have to cost anything or take up too much of your day. You could go for ice cream together, or get him tickets to a movie premier.
The critical point here is that just because other things are happening in your life doesn't mean you stop prioritizing each other's needs.
#6. Flirt with Him
Like dating, most couples forget about flirting with each other once every person is comfortable in the relationship.
However, that shouldn't be the case.
Even if you're married, make sure to always flirt with your man.
When out on dates, rub your feet against his under the table, seduce him when alone in the house, and when he's away, text him something dirty or send him a flirty photo to get him thinking about you.
When you flirt with your man, he's likely to feel more desirable in your eyes, hence, less likely to cheat.
Related: Signs Your Husband Doesn't Find You Attractive Anymore & What To Do
#7. Learn his Love Language
I'm sure you're aware of love languages. If not, check out Gary Chapman's book on the "Five Love Languages."
This is because knowing your boyfriend's or husband's love language is likely to prevent him from cheating. When you do things per his love language, your man is likely to feel loved and is less likely to go out cheating.
However, when learning your man's love language, make sure to also tell him about yours. You don't want to create a one-sided relationship.
#8. Show Him Appreciation
One of the main reasons a man might cheat on you is to stop feeling like a disappointment.
If you're always putting your man down, always discussing his weaknesses, even in public, he's more likely to cheat on you. However, if you show your man that you appreciate his efforts, he's less likely to cheat on you since he won't need validation from outside sources.
And when you appreciate your man, he's likely to step up more to ensure you keep praising him.
Related: Gut Feeling He's Cheating No Proof: 31 Critical Signs
#9. Mesmerize Him
Want to keep a man interested? Find ways to always mesmerize him.
One of the easiest ways to do this is through your clothing and appearance. Men are visual creatures and how you look plays a significant role in whether he remains attracted to you or not.
If you want to keep him from cheating, make sure he never forgets what turned him on to you. Wear flattering clothes, keep your hair neat, keep up regular grooming habits and wear perfume on occasion.
If you don't find ways to mesmerize your man, his eye is likely to wander off to other women putting an effort to mesmerize him – And believe me, women are putting extra effort to mesmerize him.
#10. Be Spontaneous
Another way to keep your man interested is by being spontaneous.
Don't be a boring girlfriend. Surprise your man sometimes.
Go out and buy a new sexy lingerie and surprise him in the bedroom. Plan a surprise birthday party a month before or after his birthday. Take him to his favorite restaurant for a surprise lunch.
Just find ways to surprise him.
By being spontaneous, he'll always wonder what's next, which will keep him interested; therefore, less likely to have an affair.
Related: Common Marriage Reconciliation Mistakes To Avoid After Infidelity
#11. Don't Be Too Controlling
If you want to keep your man interested, don't be too controlling of his life.
Don't be the angry girlfriend who constantly threatens and punishes her man for minor mistakes.
Don't be the girlfriend who always wants to controls what your man does with his time. Don't try to control how he spends his free time or how often you see each other weekly.
Instead, practice this next strategy.
#12. Give Him Time Alone
Some men cheat because they feel trapped in their relationships. One of the ways women do this is by monopolizing your man's time.
While you may want to spend all your time with your man, doing so is likely to drive him away. No matter how much he loves you, every man wants to enjoy their personal space from time to time.
To stop him from cheating, give him time alone.
One of the best ways is by letting him have time with his friends. Let him go out with friends and have fun. With this, you instill a sense of freedom.
He will surely appreciate this when he comes back.
Want to know how to give a guy space without loosing him, check out our article on how to give a guy space here.
#13. Don't Over Accommodate
While it's essential to give him his time and space, don't over accommodate.
Don't let your man walk over you.
If he always makes time for his friends but never does the same for you, don't accommodate this.
Don't make excuses for his bad behaviors.
If you overaccommodate him, he'll be more likely to cheat on you. In his mind, you'll forgive him and let it go.
While giving him time and space, make sure you don't over accommodate and make excuses for your man's bad behaviors.
Unlock Your Potential NOW!
Get FREE access to my self-growth area and achieve more fulfillment, success, control, and self-love!
#14. Don't Be Overly Critical
Your boyfriend is human. Expect him to make some mistakes.
And when he makes these mistakes, don't be overly critical of him. Don't be the girlfriend who always complains when he doesn't put away the socks.
Don't be the girlfriend who constantly nags her man for coming home late, yet he was at work.
As explained earlier, men love to feel appreciated.
So, understand how your words affect how he thinks about himself. When you're overly critical of him, he's more likely to seek validation somewhere else. And we don't want that.
#15. Separate the Person from the Problem
One of the most impactful relationship pieces of advice I've ever heard was that an argument shouldn't be between you and your boyfriend. It's both of you against the problem.
So, when your boyfriend makes a mistake, be sure to separate the person from the mistake.
While arguing, tell him that you still love him and consider him a good person. However, insist that his actions hurt you.
Rather than being overly critical of the person, be critical of his mistakes. If it's coming home late, have a candid discussion where you tell him that his actions make you sad. However, remind him that you respect all he does for you.
Related: Best Ways – How To Stop Him From Cheating
#16. Be Willing to Initiate Sex
When was the last time you initiated sex with your boyfriend? Is he the only one who initiates sex?
If that's the case, he may be more prone to cheating.
If you want to reduce the chances of your boyfriend or husband cheating on you, be willing to initiate sex at times.
By initiating sex, you make your man feel desirable to you, which will likely result in a reduced risk of him cheating on you.
#17. Keep the Sex Hot
Don't just be willing to initiate sex; make sure to also make it more interesting.
Be open to different sexual experiences and let your man know that you're willing to try new things.
The willingness to try new things helps keep your relationship exciting and prevents your man from feeling bored.
And it's not only trying new things.
If you can, initiate sex with your boyfriend or husband in the morning. Most men will love morning sex since half the time, his body is ready when he wakes up.
#18. Don't Starve Him Sex as a Punishment
This is one of the most common mistakes women make.
If you want to make it easy for your man to cheat, starve him sex. As stated in the bible, "A hungry man will eat anything, even if it's not satisfying."
Don't make your man hungry for sex. This is likely to drive him to cheat the first chance he gets.
Rather than holding out on sex, talk things out and solve your issues. Sex is an essential part of your relationship, don't use it as punishment.
#19. Be Willing to Try New Things
Trying new things doesn't only apply to the bedroom.
To prevent boredom from taking over your relationship, try new things in your social lives.
Take the time to visit new places with your man. Go for adventures in new towns, go for hiking trips, try new fun activities, or try new foods.
When you try new things together with your boyfriend or husband, you learn more about each other and get closer. Trying new things also means that your relationship is never dull.
And here's the best part.
It doesn't have to be expensive activities.
Even a day's visit to a new town is enough to help raise the excitement in your relationship.
#20. Don't Bring in Your Past Relationships
Are you still overly close with your ex? Has your boyfriend complained about your relationship with your former boyfriends?
If so, you need to change this.
Keeping close contact with your ex-boyfriends is likely to make your man jealous, which in turn may drive him to cheat.
While nothing may be happening between you and your former boyfriend, your man may assume that something does happen, and in retaliation, end up cheating on you.
And it's not only about hanging out with your former boyfriends. Comparing your man with your ex-boyfriend is also likely to drive him to cheat.
So, if you're looking for a way to keep your man from cheating, don't bring past relationships into your present one.
#21. Set Life Goals Together
I once saw a social media post where a woman stated that she and her boyfriend would have a mutual savings fund to guarantee that no one cheats. If one party cheats, the other party would get the money as heartbreak compensation.
While it may have been a joke, this was an ingenious idea.
Would you risk losing the money you saved over several years just because of a few minutes of pleasure?
The same goes for life goals. When you set life goals together, your partner is likely to remain faithful.
Setting goals together however doesn't guarantee he won't cheat. But having them in place will help keep him in focus and reduce chances of cheating.
FREE Coaching Tips!
Enter your email below to get access to my proven self-growth tips and strategies!
#22. Become Best Friends
Another strategy to help reduce the risk of your man cheating is by being his best friend.
This means you're not just his lover, but also the person he can confide in and share anything with.
You should do this by being there for him when he needs company, giving him space to grow as an individual without feeling suffocated or restricted, and making time for all things fun.
When you're best friends with your boyfriend or husband, he's less likely to break your trust by cheating on you.
Losing a lover is one thing, but losing a best friend hurts way more.
So, to stop him from cheating, become his friend.
#23. Keep in Touch
Throughout your day, make sure to keep in touch with your man.
Occasionally send him a sweet message or simply an "I love you" message. As mentioned earlier, you could also send him a flirty photo just to get him thinking about you.
However, keeping in touch doesn't mean texting him every hour. You could text him at lunch when he's not busy or in the evening as he commutes home.
#24. Be Aware of Your Emotions
Many times, we don't realize how our emotions affect how others feel.
It's essential to know how your mood swings might influence what he does outside the bedroom.
For instance, if you're constantly in a bad mood and snapping at him for no reason, it may make him to start thinking that it's not worth it anymore. With such thoughts in his mind, the likelihood of him cheating increases.
So instead of bottling up your feelings when things get tough, try talking about how you feel – good and bad included! Sure, there will be difficult moments (that's just life).
#25. Don't Accuse Him of Cheating
How would you feel if someone accused you of something you haven't done?
That's how your man feels when you accuse him of cheating on you, yet he's innocent.
Unless you have proof that he's cheating, don't accuse him of anything.
And that's not all!
The more you accuse him of something he hasn't done, the more likely he is to do it. If you continually accuse him of cheating, he's more likely to do it.
Accusing him of cheating goes against telling him that you trust him. Trust your man and give him the benefit of the doubt.
#26. Pull Him Back into the Relationship
If you notice your boyfriend being distant, don't accuse him of cheating.
Instead, put effort into trying and pull him back into the relationship.
You can start by first having a heart-to-heart conversation with him on what's bugging him. Ask him if he wants to keep the relationship going or whether he'd like to take a break.
While it may be hard to have this conversation, you'll need to do it if your relationship is to survive.
Having a serious heart-to-heart is likely to get him back on track. However, if he doesn't seem interested, or continues being distant, then it may be time for you to leave.
Related: 21 Best Ways To Deal With Guilt Of Cheating
#27. Allow Growth to Take Place in Your Relationship
If you want to keep your man always interested, look for ways you can grow together.
While you may laugh and play together, make sure you also grow together.
Take courses together, practice art together, try hiking together, join a charity together, or start working out together. Just look for ways to help both of you grow financially, physically, mentally, and spiritually.
With such growth in the relationship, your man is less likely to be interested in other women who have less to offer.
#28. Tell Him of the Consequences of Cheating
Another strategy you can use to stop him from cheating is telling him of what he stands to lose if he cheats on you.
When defining what cheating is, make sure you spell out what will happen if he breaks your trust. Make sure he knows what he'll lose if his interest wanders off.
Once he knows that you don't forgive cheating, he's less likely to engage in it.
And if he does, be strict on the consequences. Don't give him a free pass.
Related: Signs To Know When To Walk Away After Infidelity
#29. Use Reverse Psychology
What happens when you tell a child not to do something? They always end up doing it.
The same goes for some men.
If you tell them not to cheat on you, they go ahead and cheat on you. For such people, you can use reverse psychology.
Rather than telling him not to cheat on you, tell him that you don't mind if he cheats. He may end up wondering if you've planned something sinister if he cheats, and this may result in him being faithful.
#30. Hint that He May Have Competition
Men are jealous creatures.
If you notice him slacking off, and you're sure he truly loves you, hint that he may have competition.
Immediately you do this; you may notice him stepping up more. He may even be the one who suggests you guys go for a date night.
However, be careful not to overuse this strategy as your boyfriend or husband may start to think that you're cheating.
Unlock Your Potential NOW!
Get FREE access to my self-growth area and achieve more fulfillment, success, control, and self-love!
#31. Don't Try and Change Him
If a man tells you that his past relationship ended because he cheated and didn't take responsibility for his actions, this is a clear red flag that he's likely to cheat on you.
Don't try to change such a man.
You'll only end up hurt since he's likely a serial cheater.
You should also avoid men who think that it's biologically impossible to be with one woman. With such men, you can be sure that he'll cheat on you.
To stop him from cheating on you, keep away from such men.
What if it's too late, and he's already cheating. How do you stop a cheating husband in his tracks?
How to Stop a Cheating Husband in His Tracks
While we may have mentioned not accusing him of cheating if you don't have proof, you could mention that you don't like how late he stays out with his friends.
You could also tell him that you're not comfortable with how he behaves around his female friends or how he talks to women on social media.
Small actions like these are likely to tell him that you're on to him, and in most chances, he'll stop.
What if he cheats, but you still love him?
What to Do When Your Boyfriend Cheats on You, But You Still Love Him
If your man has cheated on you and you are wondering what to do next, several things can be done.
These include
Talking about the situation with a family member or friend
Seeking professional help, including couples coaching or therapy
The important thing is not to let this hurtful behavior happen again.
There may also be a need for more commitment in the relationship by both parties.
Lastly, make it clear that any future infidelity will cause severe damage to your marriage/relationship, and they need to think twice before risking everything.
What if it's a long-distance relationship? How do we avoid cheating?
Related: Falling Out Of Love After Infidelity: 21 Easy Ways
How to Avoid Cheating in a Long-Distance Relationship
If you're in a long-distance relationship, you may have a right to be wearier of a cheating partner. However, you can still avoid cheating and help prevent your partner from cheating.
Some of the things you can do include:
Trusting your partner
Frequent quality communication
Keeping yourself busy
Visiting each other regularly
Handling arguments in a mature manner
Any Further Questions?
There you go.
A list of 31 ways on how to stop him from cheating. Which of these tips will you implement in your relationship?
Do you know of any other tips to help stop him from cheating? Please tell us in the comments below.
If you have any questions or comment on how to stop your man from cheating, please ask in the comment section below. I'll be sure to respond to any questions or comments.
Related Content
25 Best Relationship Advice When Fighting
Relationship On The Rocks – 31 Best Rescue Strategies