Not having goals is like setting out on a trip without knowing your destination.
Sure, you will end up somewhere. But will it be where you really want to be?
But goal setting is only part of the story. If you want to actually achieve your goals, you'll need a way to measure and track your progress.
This is where a goal chart comes in.
Let's take a look at how goal tracking can help you reach your goals, plus ideas and templates that will help you create your own goal chart.
What Is a Goal Chart and What Is Its Purpose?
A goal chart is a visual tracking system that you use to track your progress toward your goals.
It's a way to break your big goal down into smaller, bitesize goals. This allows you to measure your progress as you work toward them over time.
People use goal charts to reach both personal and professional objectives. They guide you in taking small daily actions that add up to big changes over time.
Tracking your goals gives you a daily injection of motivation that helps you keep going even when you feel like giving up.
It also reminds you of how far you've come and how much you've achieved — something that's easy to forget when you're continuously striving for improvement.
Types of Goals
So you may be wondering what kind of goals to include in your goal chart. Here are some examples to help inspire you.
Health goals — such as weight loss or recovery from illness.
Money goals — such as achieving a certain income level or paying off debt.
Personal goals — such as getting married or starting a family.
Career goals — such as changing careers or reaching a specific position or level.
For help setting your goals, start with this video that will help you define your mission:
Then, use this goal-setting guide to help you set SMART goals that align with your mission.
What Is a Goal Tracker?
There are two types of goal tracker:
Achievement goal tracker
Habit goal tracker
Both are necessary for successfully tracking your progress on your goals.
An achievement goal is usually a bigger, longer-term objective with a specific timeframe for achieving it.
For example, if your reading goals include reading 12 books this year, that's your achievement goal.
Habit goals are the daily, weekly, and monthly actions that move you toward your goal, one day at a time.
So in our reading example, your habit goal could be to read 30 pages per day or one book per month.
A goal tracker is a way to track your daily actions and make sure you stay on track as you work toward your goal.
Related: Dreams Vs Goals: Differences & Strategies To Succeed
How Do You Create a Goal Chart? (A Step-by-Step Guide)
How you create your goal chart visually is totally up to you. The only limit is your imagination.
However, the process is pretty much the same, no matter what format you ultimately choose.
Follow this step-by-step guide to create your goal chart.
Step 1: Define Your Goal
Your end goal should feel a little scary. It should stretch and challenge you beyond your zone of comfort without being so big that it feels overwhelming.
When setting your goal, don't forget to write down your why. Your why is the driving force behind the changes you're proposing to make.
Include it in your goal chart to remind yourself every day of why you want this and help you keep going when things get tough.
Step 2: Set a Date
Decide when you want to achieve your goal by. When choosing a date, make sure it's both realistic and challenging.
Don't give yourself too much time, as a little bit of pressure will help you maintain momentum.
FREE Coaching Tips!
Enter your email below to get access to my proven self-growth tips and strategies!
Step 3: Break It Down
Once you know where you're heading and your timeframe for getting there, it's time to break it down into smaller, more immediate goals.
If your goal is to gain 100 new clients this year, calculate how many new leads you will need to generate each month, week, and day to achieve that day within the desired timeframe.
These are your achievement goals.
Step 4: Identify Your Daily Actions
Now you know the big picture goal and the milestone goals that will help you achieve it, you need to identify the daily actions that will help you achieve it.
This helps you prioritize the most important tasks that will keep you moving in the direction you want to be going. All other activities will be secondary to these daily actions.
These are your habit goals.
Step 5: Plug Your Goals Into Your Goal Chart
How you do this is up to you (see below for inspiration and templates). Let yourself get creative!
Just make sure your chart includes visual representations of both your achievement goals and your habit goals, as well as a way to track both.
Step 6: Use It Daily
Hang your goal chart somewhere you'll see it every day to keep you motivated and remind you to fill it in. A popular spot is above your desk or somewhere in your workspace.
Check off your habit goals and achievement goals as you complete them.
Related: Spiritual Goals To Thrive
Goal Chart Ideas for Adults
Not all of us are born natural creative types. Some of us need a little help getting started when it comes to creating our goal charts (and that's okay).
If that's you, fear not — use these ideas to get your creative juices flowing. You might surprise yourself!
Types of Goal Chart
Action Boards
Action boards are a simple way to track your goals. To create one, divide a large board or piece of paper into squares that correspond to your habit and achievement goals.
Each time you achieve a goal, check off the corresponding square.
Kanban Boards
Kanban boards have taken off in a big way due to their visual appeal and ease of use.
To create a Kanban board, divide your board or piece of paper into columns and label each one.
Consider categories such as "Tasks," "To-Do," "In Progress," and "Done." Add as many columns as you like to suit your needs.
Next, write out your achievement and habit goals on Post-It notes and stick them in the appropriate columns. Move the Post-It notes as you complete your goals.
Alternatively, consider using a software program such as Trello.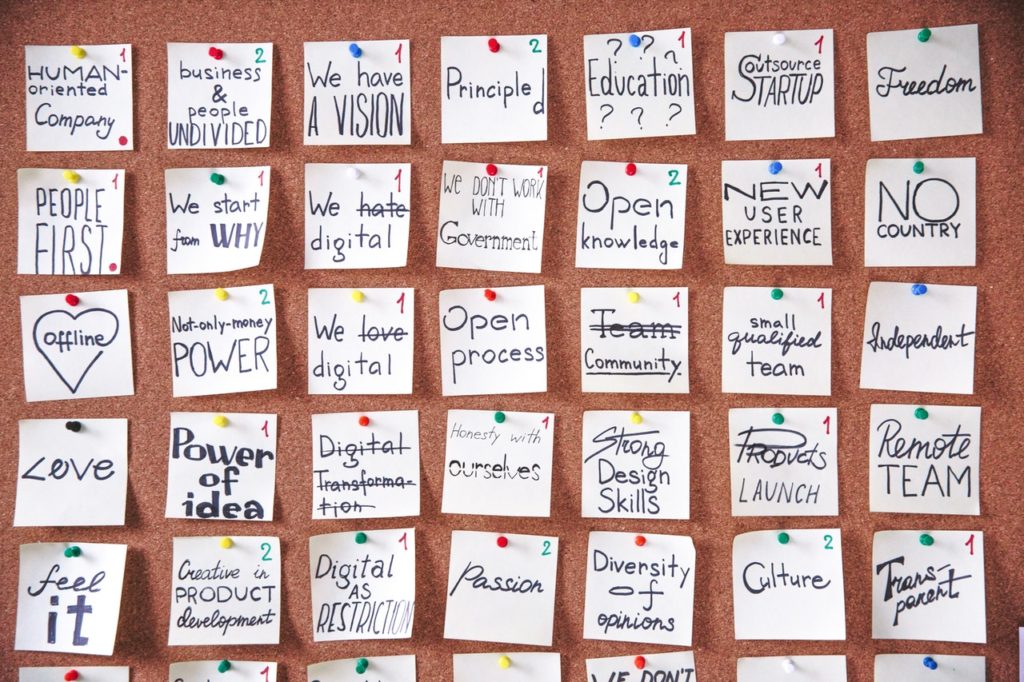 To-Do Lists
Some people prefer a good, old-fashioned to-do list to a fancy-pants board. If that's you, you're in good company.
To-do lists can be effective in achieving your goals, as they help you stay focused on the essential daily tasks.
Each evening, write out your to-do list for the next day. In the morning, start the day by reminding yourself of your goals.
Then, go over your to-do list from the night before and prioritize the tasks that are most aligned with your goals.
Excel Spreadsheets (and Google Sheets)
Excel spreadsheets — you either love 'em, or you hate 'em. If you love them, you can use them to track your goals using a goal thermometer.
Here's how.
How Do I Create a Goal Chart in Excel?
A goal thermometer is a type of goal chart. It's a bar graph that you can create in Excel using a few simple formulae.
A goal thermometer chart can be particularly useful in business contexts as it shows your progress against your objectives.
For example, it can show you how high your levels of customer satisfaction are compared to your target.
Or, you could use it to determine how many new leads your marketing campaigns are generating against your objective.
Use this in-depth guide to create your own thermometer chart in Excel or Google Spreadsheets.
Related: A Goal Without A Plan Is Just A Wish
Best Free Printable Personal Goal Chart Templates
If you prefer a done-for-you template, these 21 free printables have got you covered.
Unlock Your Potential NOW!
Get FREE access to my self-growth area and achieve more fulfillment, success, control, and self-love!
1. Goals Planner for 2023
This printable goal chart from Printables and Inspirations has 12 journal pages to help you reach your goals and is available in A5 or A4 size. You can choose from a Sunday or Monday start.
Features include:
Future log
Habit tracker
Dream board
Monthly goals
And more.
2. Personal Goal-Setting Templates
OnPlanners has several free templates and worksheets, including:
Goal setting
SMART goals
Monthly, weekly, and life goals
Goal tracker
3. Bullet Journal Tracker
Mom Envy has got bullet journal lovers covered with this free printable tracker. Simply check off the boxes each time you take a step toward your goal.
4. Goal Planner and Tracker
These beautiful, pastel-colored templates from Bobbi Printables give you space to both set and track your goals.
They come in A4 size but can be scaled to fit your journal.
5. 30-Day Tracker
This free monthly goal tracker from I Heart Planners is great for tracking your habit goals. It has space to record up to ten actions per day.
6. Goal-Setting Planner for Boss Babes
This beautiful, free planner from Searching for Better has space for daily and weekly goals. It also includes an end-of-week review section.
7. Short-and Long-Term Goal Tracking Guide
This free mini-guide from Moritz Fine Designs helps you plan and track both short-and long-term goals.
8. Year-Long Goal Chart
Keep an eye on your long-term goals with this free yearly tracker by Ordinary and Happy.
9. Financial Goals Worksheet
Use this free worksheet from My Frugal Home to keep track of your financial goals.
10. Self-Improvement Worksheets
Wise Goals have created several free trackers, including:
Goal-setting worksheet
Long-term dreams and short-term goals chart
Areas of life goals worksheet
11. Priorities and Motivation Goal Chart
This free printable goal chart from Just a Girl and Her Blog gives you a visual reminder of your priorities and values to help you stay motivated.
12. The Daily Docket
This free printable daily planner from Passion for Savings includes a weekly at-a-glance tracker and daily docket to help you keep track of your habit goals.
13. Daily Intentions Goal Chart
Set your top three priorities each day and track your habits with Elle Olive Co's free printable daily planner.
14. SMART Goal Tracker
Set and track your SMART goals with this free goal chart from Organized 31.
15. 100-Day Goal Tracker
Use this 100-day tracker from Smiling Colors to kickstart a new habit and make it stick so you can reach your goals.
16. Minimalist Habit Tracker
This minimalist, free habit tracker from Evermore Paper Co is a no-fuss way to stay on top of your daily to-dos.
17. Mandala Tracker
If you like to unleash your creativity while tracking goals, try this mandala goal chart by Natasha LH.
18. Goal Calendar
Use this goal calendar by Out of the Habit as a visual reminder of your goals and progress. Post it somewhere you can consult it regularly, so you don't always have to refer to your planner.
19 & 20. Goal-Setting Worksheet and Habit Tracker
This worksheet and goal chart from A Conscious Rethink will help you set goals you can really stick to. Plus, it comes in two different designs to choose from.
21. Monthly Goal Tracker
This free monthly goal chart from World of Printables will help you stay on track all year.
A Goal Chart Can Help Make Your Dreams Reality
After reading this article, I hope you feel inspired and motivated to start taking action on your goals.
Using a goal chart can help you train your brain to focus on what's really important. It can also keep you motivated during those times you feel like giving up.
So go forth and track your goals! And let me know how it goes.
FREE Coaching Tips!
Enter your email below to get access to my proven self-growth tips and strategies!
Related Content
Productivity Coach — 9 Facts Checklist