We may receive compensation if you visit partners we recommend. Read our affiliate disclosure. Thanks for your support!
Ready to transform lives and make a positive impact as a lifestyle coach?
Yet, the road to success requires more than good intentions. Let's unveil the art and science of becoming a top-tier lifestyle coach, providing the light that leads others to their best lives.
This step-by-step ultimate guide leads you the way.
The time to start is now!
Key Takeaways
Pursue a recognized coaching certification for enhanced credibility
Learn life-changing interventions to help clients with lasting change
Network with other coaches and create content to build your business
What Is A Lifestyle Coach?
A lifestyle coach is a unique professional whose mission is to facilitate significant, positive behavior change, in an individual's life.
They're instrumental in helping their clients navigate the complexities of life, including:
overall health goals,
personal struggles,
career challenges, and
relationship hurdles
with a focus on self-confidence and on cultivating a fulfilled life.
As a lifestyle coach, your role involves guiding your clients toward realizing their potential and paving a clearer path to their desired life outcomes.
It's more than a profession – it's an opportunity to shape lives, foster growth, and witness remarkable transformations.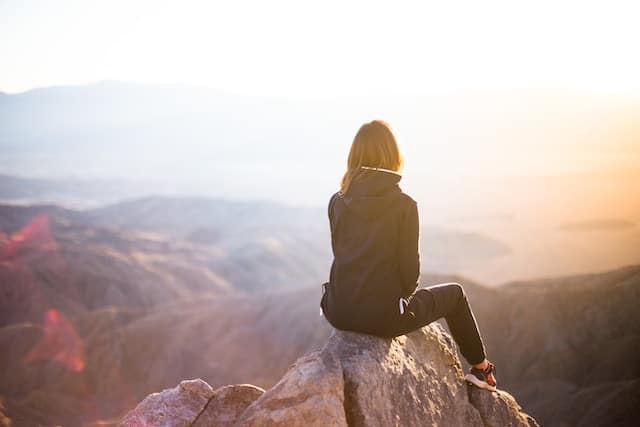 How Do Lifestyle Coaches Work?
As a lifestyle coach, you can start working as a catalyst for change, facilitating personal and professional growth in individuals seeking to enhance their quality of life.
Your strategies and techniques are tailor-made for each individual, addressing their unique needs and aspirations.
Your role involves
initiating constructive conversations
uncover obstacles that are hindering progress
guiding clients to set attainable goals and effective action plans
offering accountability
support clients as they venture beyond their comfort zones
commence their transformation journey
empower individuals to take charge of their lives
Skills You Need To Be A Successful Lifestyle Coach
To thrive as a lifestyle coach, certain coaching skills are crucial.
active listening
strong communication
giving encouraging feedback
empathy
motivation, enthusiasm & passion
good in creating new habits
First and foremost, you need to exhibit strong listening abilities.
This means hearing beyond just the words – it's about understanding the emotions, desires, and fears that your clients express.
Secondly, strong communication skills are paramount. These not only involve speaking clearly but also knowing when to be silent, when to ask probing questions, and how to provide feedback that encourages growth.
In addition, you should be able to maintain a positive attitude to inspire your clients and bolster their belief in themselves.
Equally important is empathy – a deep understanding of your client's emotions and the barriers they may be facing.
Lastly, don't underestimate the value of passion. Your enthusiasm can fuel your clients' motivation and serve as a driving force for them to commit to their transformation journey.
Pick A Specific Lifestyle Coaching Niche
There are many roles that a lifestyle coach can take on. Selecting a niche is more than just picking a specialty; it's about identifying where you can make a meaningful impact and help others transform their lives.
Here are some examples for different niches:
health
nutrition
weight loss
addiction
mindset
motivation
stress & life balance
life transitions
relationships
career
parenting
etc.
You should consider your personal interests, experiences, and areas of expertise, as these will directly influence your coaching style and effectiveness.
Ultimately, the niche you choose will shape your journey as a lifestyle change coach, guiding the people you work with and the transformations you'll help facilitate.
Certification Programs For A Lifestyle Coach
There are different certification options available.
Life Coach Certifications
A route many lifestyle coaches choose is a life coach certification program. My comprehensive guide about the best life coach certification programs can help you find the right pick for you. The best-reviewed and ICF-certified options are:
Health-Related Lifestyle Coach Certification Programs
Diabetes Prevention Lifestyle Coach Certification
There are different bodies that offer diabetes prevention programs (DPP) with certification. (see below)
DPP Lifestyle Coach Training Online & In Person
Organizations that offer remote DPP lifestyle coach programs and training courses are:
ADCES Lifestyle Coach Training
The Association of Diabetes Care & Education Specialists (ADCES) offers a National Diabetes Prevention Program (DPP) Lifestyle Coach Training.
State Of Wellness Lifestyle Coach Training
The State of Wellness Lifestyle Coach Training Program is CDC approved.
Defining Your Ideal Clients
Defining your ideal client isn't just a step – it's a cornerstone.
Why, you ask?
Well, when you define your ideal client, you pave a clear path toward those who will truly benefit from your unique blend of expertise and empathy.
It's about efficiency, sure, but it's also about maximizing the transformative impact you can make in people's lives.
Book recommendation: The Business and Practice of Coaching
Don't dilute your potential by trying to help everyone; instead, focus your energy on those you're best equipped to guide.
Once you defined your ideal client, you can tailor a specific marketing strategy and messages to them.
Related: How To Get Coaching Clients
Best Marketing Strategies for Lifestyle Coaches
Let's explore the foundational steps to creating a compelling marketing strategy that speaks directly to your ideal clients.
Develop Your Website And Create Content
One of the first steps towards successfully marketing your practice involves establishing a robust online presence.
A well-structured website acts as your digital storefront, inviting potential clients to explore your services and understand your coaching philosophy.
Simultaneously, creating engaging, additional information plays a crucial role in demonstrating your expertise and connecting with your audience on a deeper level.
Use The Taster Technique
The 'Taster Technique' involves offering free initial consultations to potential clients, granting them a glimpse into the transformative journey they could embark on with your guidance.
By providing a taste of your coaching style, expertise, and the potential benefits they can derive, you not only showcase your value but also build a rapport with your new clients, leading to a sense of trust and comfort.
Remember, the decision to invest in a certified lifestyle coach can be significant for many clients; hence, the taster technique serves as a risk-free way for them to gauge if it's the right choice.
Leverage LinkedIn For Client Acquisition
LinkedIn is the go-to social media platform for professionals and is providing a unique environment to showcase your expertise and services.
Start by creating a compelling profile that highlights:
your qualifications
skills
the value you bring to your clients
Then, leverage its networking potential:
join relevant groups
participate in discussions
share insightful content in your niche
It's all about visibility and providing value – the more people see your insightful contributions, the more likely they'll view you as a go-to resource in your field.
I highly recommend the book The Ultimate LinkedIn Sales Guide if you want to dig deeper into this topic.
Facebook Ads
If you have a marketing budget, Facebook Ads should be a key component of your marketing strategy. They help you reach a specifically targeted audience.
I highly recommend: Ultimate Guide To Facebook Advertising
You can craft ads showcasing your coaching services, client testimonials, or informative content, then adjust your targeting based on demographic data, interests, and behaviors.
The trick is to make your ads engaging and value-packed. Remember, it's not just about selling your services, but also about demonstrating the transformative impact you can have on people's lives.
Create Digital Coaching Products To Scale
Digital products are your key to scaling successfully.
Online Courses
A YouTube Channel
Podcast
Newsletter
LinkedIn Group
E-Books
There are a variety of options you can pick from, whatever suits your personality.
Digital Products can get you off the treadmill of selling your time for money. If you focus early on building high-quality digital products, it will help you scale your new business more in the long run.
Network With Coaches, That Aren't A Lifestyle Coach
Broadening your network to include coaches from diverse disciplines is a strategic move to drive your growth as a lifestyle coach.
When you step out of your circle, you encounter
fresh perspectives,
innovative strategies, and
unique methodologies
that can enrich your own coaching approach. And at the same time, you increase your chances to get referrals from colleagues.
So, don't hesitate to connect, engage, and collaborate with coaches beyond your field—it's a win-win for all!
Write Guest Article Related To Lifestyle Coaching Topics
Guest blogging is a powerful tool in your marketing arsenal as a lifestyle coach.
Writing articles on topics related to lifestyle coaching for other reputable platforms allows you to showcase your knowledge, establish authority, and reach a wider audience.
Develop Your Coaching Style
Crafting your unique coaching style is a journey of self-discovery and professional growth.
It's about blending your personal traits, core values, and life experiences with the knowledge you've gained as a lifestyle coach.
Remember, your coaching style is a reflection of you—it should resonate with your beliefs, and it should feel natural and authentic.
It's a continuous process of learning, adapting, and refining, but the end result is a style that not only sets you apart but also allows you to make meaningful connections with your clients.
Embrace this journey, as it forms the bedrock of your unique identity in the world of lifestyle coaching.
How Much Can You Earn As A Lifestyle Coach?
The average life coach salary is $47,100 globally and $62,500 in North America. Check out my guide on life coach salary.
Your earning potential as a lifestyle coach is as diverse as the field itself. It largely depends on factors such as
your experience
the quality of your coaching
your marketing efforts
the demographic you serve
Entry-level coaches may start with modest earnings, but as you gain experience, develop a strong client base, and expand your offerings, your income can increase significantly.
Furthermore, creating digital products, offering group coaching, and leveraging online platforms can also help amplify your earnings.
Remember, your value as a coach is reflected in the transformative results you deliver to your clients—focus on this, and financial success will follow.
How Does A Lifestyle Coach Differ From Other Specialists?
The key is to realize that a lifestyle coach isn't a mentor, consultant, or therapist.
A mentor provides guidance based on shared experiences, typically in the same company or industry. On the other hand, a consultant offers expert analysis and solution-oriented goals, fixing and strategizing to improve performance and morale.
They prescribe action plans that directly impact your future.
Meanwhile, therapists focus on healing or integrating old emotional wounds, placing attention on your past, present, and future. Unlike a coach, a therapist can diagnose disorders and prescribe treatment.
Conversely, lifestyle coaches focus on the present and future, helping you alter your thinking to accomplish what you want. The relationship with a lifestyle coach is a confidential, judgment-free atmosphere, personalized to meet your needs.
They're adept at using techniques like
open-ended questions
visualization techniques
guided meditation
positive affirmations
changes in perception
thoughts for personal transformation
How Is A Lifestyle Coach Different From A Health Coach?
A lifestyle coach focuses on personal development and mental wellness, addressing aspects such as personal challenges, relationship improvement, stress management, and overall life betterment.
Conversely, health coaching emphasizes physical health and fitness training, guiding clients to reach specific health goals, dietary changes, and disease control.
While they also consider your mental wellbeing and emotional wellness, it's mainly in the context of how it affects physical health.
Life Coaching vs. Therapy
A life coach empowers you to overcome personal challenges and set specific goals, equipping you with tools for self-improvement. It's a forward-thinking practice, focusing on creating a better future.
On the other hand, therapy is a healing profession that delves into your past lifestyle issues and trauma to understand and resolve current mental health challenges.
It's about diagnosing and treating your emotional problems and mental health conditions. Both hold immense value, yet serve distinct purposes.
Life Coaching vs. Consulting
A life coach serves as a guiding partner, fostering self-discovery and personal growth, enabling you to identify your goals, obstacles, and viable solutions. It's about holistic personal development.
Conversely, a consultant, with their expert knowledge in a specific field, provides direct advice, solutions, and strategies to solve business or professional problems.
While life coaches ask insightful questions to provoke self-realization, consultants deliver solutions based on their expertise.
Each has its place, but they serve different needs and situations.
Frequently Asked Questions (FAQs)
What Does A Lifestyle Coach Co?
A lifestyle coach acts as your personal development ally, guiding you to overcome personal challenges and elevate your overall well-being and quality of life.
They enable you to identify your goals and devise actionable plans, focusing on various life areas such as
relationships
stress management
career growth
By providing tools, strategies, and consistent support, lifestyle coaches empower you to transform your life and find lasting satisfaction.
How Much Do Lifestyle Coaches Charge?
Lifestyle coaches charge from $50 to $300 USD per hour for their hard work, depending on their expertise and effectiveness.
How To Be A Lifestyle Coach?
To become a lifestyle coach, first, you need to understand the essence of lifestyle coaching, its ethics, and methods, usually acquired through a certified training program.
Next, develop essential skills like active listening, empathy, and goal-setting, to support clients in their personal growth journey.
Finally, practice consistently, continue learning, and network within the coaching community, to hone your skills and expand your reach.
Do You Need Certification To Be A Lifestyle Coach?
There is no formal requirement for lifestyle coaches to have a certification.
However, acquiring a certification from a recognized coaching institution can greatly enhance your credibility, broaden your skillset, and instill self-confidence in potential clients about your expertise.