Today, I'm going to share with you my definitive guide to the must-listen personal development podcasts for 2023.
With the start of a new decade, you may be looking for ways to improve yourself and live a more meaningful life.
But with so many motivational podcasts out there, the choice can be overwhelming.
Often, the hardest part is getting started, so I've taken the guesswork out for you by creating this list.
I have personally handpicked this selection of the best motivational and inspirational podcasts by some of the world's leading experts in their fields.
Whether you…
dream of launching your own business,

are looking for love,

want this to be the year you finally reach your goals,

or are simply a personal growth junkie,
…you will find the perfect podcast for you on this list!
Read on to discover the best self-help podcasts, and make 2023 your best year ever!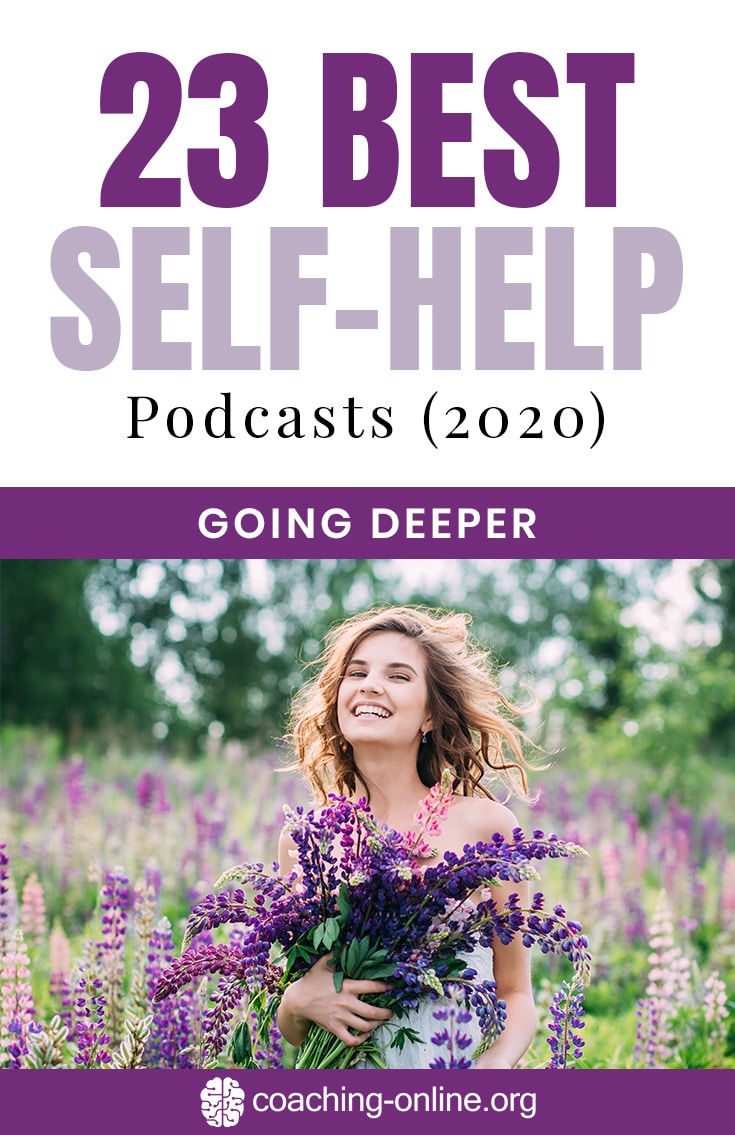 1. Esther Perel – Where Should We Begin
New-York based psychotherapist Esther's recordings of real-life couples' therapy sessions make for compelling, surprising, and heart-warming listening.
Perhaps most surprising of all is how life stories that on the surface appear different to your own can hold valuable, deep insights into yourself and your relationships, as well as practical advice that you can apply in real life.
2. Therapy Chat Podcast
Both professionals and laypeople alike can benefit from the insights and approaches shared on this podcast by psychotherapist, burnout prevention consultant, and certified Daring Way™ Facilitator, Laura Reagan, and her guests.
Therapists and coaches can gain new tools to help them better serve their clients, while ordinary folk can gain insights into psychotherapy, with topics including mindfulness, self-compassion, trauma, parenting, attachment, and much more.
3. The Psychology Podcast
The perfect podcast for those who really want to dig deep into human psychology, the mind, brain, behavior, and creativity to become the best possible version of themselves.
In each episode Dr. Scott Barry Kaufman and his guests bring you their knowledge and insights to help you gain a greater understanding of yourself, others, and the world around you.
Unmissable listening for all self-help junkies!
4. The Angry Therapist
Unscripted and raw, John Kim is the Angry Therapist, delivering "therapy in a shot glass, ten minutes or less", in his signature no-BS style.
John is relatable, because he knows what it's like to be miserable, and inspiring, because he knows how to overcome hardship.
His laid-back approach delivers a simultaneous dose of humor and motivation, making this one of the best self-help podcasts out there for those who are short on time.
5. The Minimalists
Joshua Fields Milburn and Ryan Nicodemus are the hosts of The Minimalists podcast, inspiring you to live a more meaningful life with less through their philosophy of "love people and use things".
If you're looking for the motivation you need to de-clutter your life, this is the podcast for you!
6. The Rich Roll Podcast
Vegan ultra-marathon runner, wellness evangelist and bestselling author, Rich Roll, hosts this podcast, in which he talks to some of the world's most inspiring thought leaders.
Rich's open-hearted approach to changing lives makes this an uplifting podcast that will empower you to unlock the best, most authentic version of yourself.
7. Ten Percent Happier With Dan Harris
Dan Harris had a panic attack live on Good Morning America, which led this "fidgety, skeptical" news reporter to discover meditation.
In this podcast, he makes mindfulness and meditation more accessible through his candidness and humor, while his guests, some of the world's most knowledgeable meditation teachers, share practical techniques that will appeal even to the most skeptical meditator.
8. Impact Theory With Tom Bilyeu
In this podcast, serial entrepreneur and founder of #2 Inc. 500 company Quest Nutrition, Tom Bilyeu, interviews some of the world's most successful entrepreneurs.
Guests revealing their secrets to success include Peter Diamandis, Jim Kwik, and Vishen Lakhiani, making this podcast a must-listen if you own a business, or are thinking of starting one.
9. The Hardcore Self Help Podcast
Robert Duff, Ph.D., a.k.a Duff the Psych, hosts this podcast in which he shares his best tips on dealing with mental health, anxiety, depression, relationships, and life in general.
His goal is to make the information as accessible as possible by eliminating "psychobabble BS".
10. The Tony Robbins Podcast
No list of personal development podcasts would be complete without the inimitable, world-renowned life coach and motivational speaker Tony Robbins.
Tony shares his wisdom on a range of self-help topics, from business, to love and relationships, health and fitness, and finances, and each week guests such as Deepak Chopra, Dr Mark Hyman, and Dave Asprey, share their life-changing insights with his listeners.
11. London Real
Host Brian Rose created this podcast to share the real-life stories of people at the top of their game in every sector, from business to science, and everything in between.
Guests include "Ice Man" Wim Hof, conservationist Jane Goodall, scientist Bruce Lipton, and entrepreneur Vishen Lakhiani, and each episode dishes out a good helping of motivation.
12. The School Of Greatness With Lewis Howes
As a New York Times bestselling author, world record holder, former pro athlete, and lifestyle entrepreneur, Lewis Howes certainly know a thing or two about greatness.
As well as sharing his personal insights, Lewis interviews some of the greatest people on the planet, including entrepreneurs, thought leaders and athletes, so you can follow in their footsteps.
This motivational podcast will have you reaching for the stars!
13. The Mindvalley Podcast
Entrepreneur, author, speaker, and activist, Vishen Lakhiani, hosts this podcast covering a vast range of profoundly inspiring and motivational content.
In each episode, Vishen invites a different guest, each one a thought leader in personal growth or spirituality, to share their stories, as well as their life-changing personal development tips.
14. The Robin Sharma Mastery Sessions
This self-help podcast, hosted by author, leadership speaker, and former lawyer Robin Sharma, is designed to give you practical tips that will help you improve in every area of your life.
Based on his analysis of the world's top 5 percent of performers, Robin shares his secrets on mastery and provides practical, actionable steps that can skyrocket you to becoming the best version of yourself.
15. Happier With Gretchen Rubin
Author of The Happiness Project, and other self-help books, Gretchen Rubin, hosts this weekly podcast in which she shares her findings on how we can all be happier.
Inspired by her personal, year-long happiness experiment documented in The Happiness Project, Gretchen imparts her discoveries so that you, too, can live a happier life.
16. The Jordan Harbinger Show
Masterful interviewer Jordan talks to some of the world's most successful people to bring you their best tips, strategies, and insights, so that you can apply them in your own life.
One of the more interactive podcasts out there, it features weekly Feedback Friday episodes, in which Jordan and Jason DeFillippo answer listeners' questions and comments.
17. Kwik Brain
The amazing Jim Kwik is a master of learning how to learn, or meta-learning, and has trained many of the world's top celebrities and CEOs to supercharge their mental performance.
In his podcast, he shares his tips for increasing your learning efficiency, so no matter whether you want to learn a new language, a speech, or how to code, Jim will help you increase your productivity and reach your goals in half the time!
18. Daily Boost | Daily Coaching And Motivation
This is another one of those bite-sized podcasts, hosted by Scott Smith, who delivers advice on finding your purpose, getting focused, reducing stress, and experiencing greater happiness in just nine minutes.

His humorous, motivational coaching style is the best way to start your mornings if you're short on time.

19. Changeability Podcast: Manage Your Mind – Change Your Life
Have you ever noticed how hard it is to make real changes in your life, no matter how much you want it?
Kathryn Bryant and Julian Illman share tips and tricks for managing your mind in order to create real change and live your best life in this award-winning podcast.
This is one of the most practical podcasts on this list, providing mind-management techniques you can apply in your daily life.
20. The Good Life Project
Hosted by brilliant interviewer Jonathan Fields, the Good Life Project explores how we can all live better lives.
The guest list includes thought leaders such as Elizabeth Gilbert, Brené Brown, Sir Ken Robinson, and Gretchen Rubin, among others.
No matter what is happening in your life, this is one of those podcasts that offer a dose of insight, inspiration, and motivation that you can apply to live a more connected, purposeful and fulfilling life.
21. The Life Coach School Podcast
Brilliant Master Coach Brooke Castillo hosts this eye-opening podcast in which she shares all she has to offer about life and weight loss coaching, breaking down complex issues to make them easy to understand, and offering life-changing advice for her listeners.
This is one of those podcasts you don't want to miss!
22. The Brendon Show
Every week Brendon Burchard, one of the world's leading high-performance coaches, whose celebrity clients include Oprah, shares his message on how we can all live, love, and matter.
Brendon tells listeners about his personal challenges and what he's currently working towards, as well as imparting strategies that you, too, can implement to live an extraordinary life.
23. The Marie Forleo Podcast
Named thought leader for the next generation by Oprah, Marie Forleo is on a mission to help you become the person you most want to be.
In this podcast, she provides strategies for greater creativity, productivity, motivation, and success, as well as love and making a positive contribution to the world.

So there you have it – the 23 best self-help podcasts that will help you become the best version of you in 2023. I hope you enjoy them!
Thanks for stopping by and reading my guide. Share this piece with a friend to help them too!
Related Posts
Self-Coaching Online – 9 Proven Strategies Checklist
The Ultimate Step-By-Step Guide to Gaining More Self Confidence
Online Life Coach – The Complete Guide