We may receive compensation if you visit partners we recommend. Read our affiliate disclosure.
Do you want to stand out as a top-notch team coach? Master the ICF team coaching competencies and establish yourself as a leader in the field.
Team coaching is one of the fastest-growing segments in the coaching profession right now with high demand from corporations, government agencies, and non-profits.
Rocket Fuel your coaching career by building team coaching competencies.
Check also my guide for ICF Team Coaching Certification.
Key-Takeaways:
8 ICF team coaching competencies are the ideal guideline to implement team coach training and level up your team coaching skills
Qualified ICF team coaches are in higher demand than ever
Evaluate your team coaching skills regularly (free worksheet in this article)
ICF Team Coaching Definition
The 8 ICF team coaching competencies provide a clear and comprehensive framework for effective team coaching, covering everything from establishing trust to facilitating team dynamics. They relate to and extend the eight ICF core competencies.
It's about how team coaches partner in a co-creative and reflective process with a team on its dynamics and relationships in a way that inspires them to maximize their abilities and potential.
The goal is to reach their common purpose and shared goals.
The ICF team coaching competencies framework helps teams with continued high performance and ongoing development, requiring innovation, flexibility, adaptability, and goal alignment.
It gives team coaches clear guidance on how to work with a team successfully.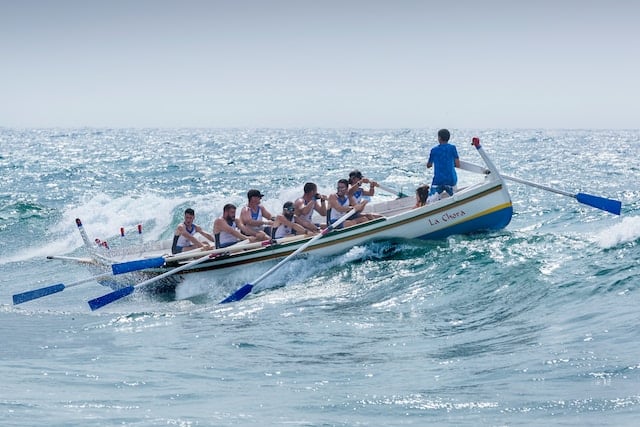 8 ICF Team Coaching Competencies
Team coaching empowers teams to work to the best of their ability. Here comes a quick overview of the 8 ICF Coaching Competencies in team coaching contexts, and their definition.
1. Demonstrate Ethical Practice
You understand and consistently apply coaching ethics and standards of coaching.
You coach the client team as a single entity
You maintain the distinction between team coaching, team building, team training, team consulting, team mentoring, team facilitation, and other team development modalities
You demonstrate the knowledge and skill needed to practice the specific blend of team development modalities that are being offered
You adopt more directive team development modalities only when needed to help the team achieve their goals
You maintain trust, transparency, and clarity when fulfilling multiple roles related to the team coaching discipline.
2. Embody a Coaching Mindset
You develop and maintain a mindset that is open, curious, flexible, and client-centered.
You engage in coaching supervision for support, development, and accountability when needed
You remain objective and aware of team dynamics and patterns
BEST ICF Coaching Certification Program
3. Establish and Maintain Agreements
You partner with coaching clients and relevant stakeholders to create clear agreements about the coaching relationship, process, plans, and goals. You establish agreements for the overall coaching engagement as well as for each coaching session.
You explain what team coaching is and is not, including how it differs from other team development modalities
You partner with all relevant parties, including the team leaders, team members, stakeholders, and any co-coaches to collaboratively create clear agreements about the coaching relationship, processes, plans, development modalities, and goals
You partner with the team leader to harness teams collective expertise and determine how ownership of the coaching process will be shared among the coach, leader, and team
4. Cultivate Trust and Safety
You partner with the client to create a safe, supportive environment that allows the client to share freely. You maintain a relationship of mutual respect and trust.
You create and maintain a safe space for open and honest team member interaction
You promote the team viewing itself as a single entity with a common identity
You foster the expression of individual team members and the collective team's feelings, perceptions, concerns, beliefs, hopes, and suggestions
You encourage participation and contribution by all team members
You partner with the team to develop, maintain, and reflect on team rules and norms
You promote effective communication within the team
You partner with the team to identify and resolve internal conflict
5. Maintain Presence
You are fully conscious and present with the client, employing a style that is open, flexible, grounded, and confident.
You use one's full range of sensory and perceptual abilities to focus on what is important to the coaching process
You use a co-coach when agreed to by the team and sponsors and when doing so will allow the team coach to be more present in the team coaching session
You encourage team members to pause and reflect on how they are interacting in team coaching sessions
You move in and out of the team dialogue as appropriate
6. Listen Actively
You focus on what the client is and is not saying to fully understand what is being communicated in the context of the client systems and to support client's self-expression.
You notice how the perspectives shared by each team member relate to other team members' views and the team dialogue
You notice how each team member impacts the collective team energy, engagement, and focus
You notice verbal and non-verbal communication patterns among team members to identify potential alliances, conflicts, and growth opportunities
You model confident, effective communication and collaboration when working with a co-coach or other experts
You encourage the team to own the dialogue
7. Evoke Awareness
You facilitate client insight and learning by using tools and techniques such as powerful questioning, silence, metaphor, or analogy.
You challenge the team's assumptions, behaviors, and meaning-making processes to enhance their collective awareness or insight
You use questions and other techniques to foster team development and facilitate the team's ownership of their collective dialogue
8. Facilitate Client Growth
You partner with the client to transform learning and insight into action. You promote client autonomy in the coaching process.
You encourage dialogue and reflection to help the team identify their goals and the steps to achieve those goals
For more details have a look at the official ICF PDF document about the relevant team coaching competencies. Especially interesting in the PDF is, that it shows how the ICF core competencies integrate and relate to the team coaching competencies (yellow and blue puzzle pieces).
The above highly relevant team competencies are the perfect framework to build your team coaching practice.
ICF Team Coaching Competencies Moving Beyond One To One Coaching
With the ICF team coaching competencies, you'll have a roadmap to guide your practice from a one-on-one approach toward team coaching and establish yourself as a top-notch team coach. Plus, with research-backed strategies and best practices, you can feel confident that you're providing your teams with the best possible support.
Free ICF Coaching Competencies Evaluation Checklist
DOWNLOAD: ICF Team Coaching Competencies Evaluation Checklist
Use my free ICF team coaching competencies evaluation checklist to do a systematic evaluation of your team coaching skills. You can use my free sheet to do a self-evaluation as well as an evaluation from other team coach practitioners and/or supervisor team coaches. The sheet is based on the ICF core competencies and ICF team coaching competencies.
ICF Team Coaching Certification
The International Coaching Federation (ICF) offers a specific certification for team coaching, the Advanced Certification in Team Coaching (ACTC). My ICF Team Coaching Certification Complete Guide covers these specialized education programs in depth.
ICF Advanced Certification in Team Coaching (ACTC)
The ICF Team Coaching Competencies model sets the standards for a specific team coaching certification called Advanced Certification in Team Coaching (ACTC).
This certification enables you to level up your knowledge, skills, and competence in group coaching. This way you can set yourself apart as an advanced team coach and demonstrate your value for organizations and companies. It could prove to be one of the more valuable ICF credentials for certified coaches and aspiring coaches alike.