You're about to find 14 important facts about the International Coach Federation (ICF) definition of coaching.
I am an ICF-accredited life coach, and I'd strongly urge any professional coaches or aspiring coaches to get this accreditation too.
In this deep dive into the ICF definition of coaching, you'll learn more about what coaching really is and how the International Coach Federation helps coaches.
Let's dive right into it.
1. What Is The Best Definition Of Coaching?
It's widely agreed across the world that the International Coach Federation definition of coaching is the best one.
The ICF defines coaching as: partnering with clients in a thought-provoking and creative process that inspires them to maximize their personal and professional potential.
2. What Does ICF Coaching Stand For?
The International Coach Federation is the standard governing body for coaches around the world.
This global body sets the standards for coaching training programs, and accredits the programs that meet these standards.
Although the ICF has competitors, it is widely recognised for enforcing the highest standards of coaching.
This means: if you work with a coach who has an ICF-accredited qualification, you can be sure they are ready for the task at hand.
Indeed, anyone with the slightest knowledge of the coaching industry will suggest you only work with coaches who have an ICF certification.
Unlock Your Potential NOW!
Get FREE access to my self-growth area and achieve more fulfillment, success, control, and self-love!
3. How Is Coaching Delivered?
Coaching can be delivered face-to-face or over the phone. With recent improvements in technology, there has been a significant increase in virtual coaches using web-based video chat services.
If your chosen coach has an ICF certification, you can expect your coaching to begin with a personal interview to assess your current opportunities and challenges. This call will help the coach and the clients to clarify their specific desired outcomes and define the scope of the coaching relationship.
The length and frequency of subsequent coaching calls will be previously established. Coaches may suggest actions for the clients to take in between these calls in order to move closer to their goals.
Coaches may also provide additional resources such as articles, assessments or videos
The length of the coaching relationship will vary depending on the needs of the clients. The ICF suggests that three to six months can be enough for a client to reach their goals in certain types of coaching, although some coaching clients may prefer a longer relationship. It depends on the types of goals that clients define, the frequency of coaching and the way individuals prefer to work, among other things.
4. How Do Coaches Serve Their Clients?
According to the ICF website, a coach's job is to:
find out, clarify, and align with what the client wants to achieve;
encourage self-discovery within their clients;
elicit client-generated solutions and strategies;
hold their clients responsible and accountable.
This process aims to enhance their clients' outlook on work and life, while improving their leadership skills and unlocking their potential. Coaches must honor the client as the expert in their own life. They must believe every client is creative, resourceful and whole.
On top of that, coaches will:
provide objective assessments and observations that fosters self-awareness and awareness of others;
listen to and fully understand the circumstances of their clients;
act as a sounding board to and implement thoughtful decision-making;
champion the client's opportunities and potential;
foster shifts in thinking that reveal new perspectives;
challenge blind spots to illuminate new possibilities and support the creation of alternative perspectives;
maintain professional boundaries in the coaching relationship, including confidentiality.
You can expect coaches with an ICF certification to always adopt an appreciative approach with constructive communication skills, based on what's right, what's going well, what's wanted and what's needed to get there.
With that said, according to the ICF website, it's the responsibility of the client to partake in the following:
creating their own coaching agenda, based on personally meaningful goals;
defining and envision their own personal success in this world;
taking the ideas provided by coaches and engaging in effective courageous forward action towards growth;
engaging in big-picture thinking;
assuming full responsibility for personal decisions and actions.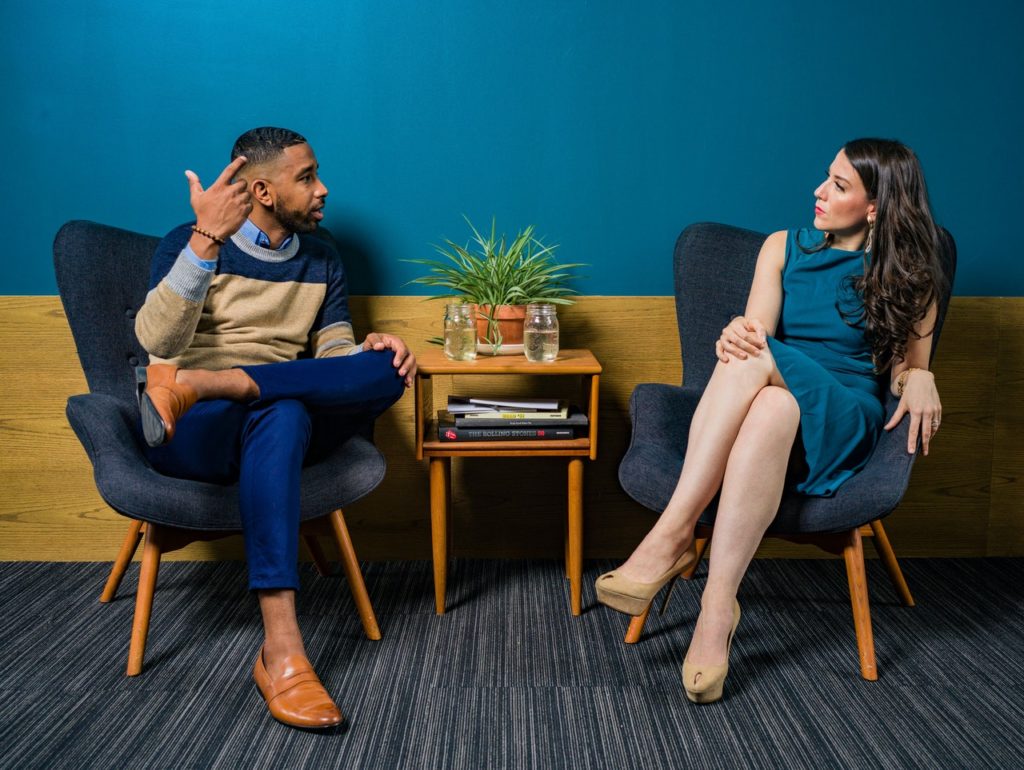 5. What Is Coaching Not?
The ICF helps its website visitors to define what coaching is not by comparing it to similar support-based practices.
We'll do the same here.
How Does Coaching Compare To Therapy?
Therapy is primarily focused on healing pain, conflict or difficulties arising from the past that hamper the emotional function of the client. There's a lot of communication about the client's past.
You might not have any of these problems to benefit from coaching. Coaching is about setting and smashing goals. It's therefore future-focused.
How Does Coaching Compare To Consulting?
The delivery of consulting varies wildly, but you can usually expect a consultant to diagnose a client's problems and sometimes implement solutions. They take more of a leadership role. With coaching, clients are encouraged to discover their own problems and solutions, with coaches lending helpful guidance along the way.
How Does Coaching Compare To Mentoring?
Mentoring is purely based on improved results in a specific field. Mentors provide advice based on their own experience. The mentoring process rarely involves any focus on the client's emotions.
How Does Coaching Compare To Training?
Training programs have objectives defined by the trainer. They mostly have a linear learning path. With coaching, it is up to the client to define their objectives. The coaching process is extremely flexible, depending on what the clients need.
What About Sports Coaching?
Sports coaching tends to differ from the ICF definition of coaching. Sports coaches direct the behavior of their clients, usually based on their greater experience or knowledge.
6. Why Might Someone Want Coaching?
According to the ICF website, the main reasons an individual might benefit from coaching include:
they want to take advantage of a compelling or exciting opportunity;
they want to fill a personal gap in knowledge, skills or confidence;
they want to improve their results in a certain aspect of their life;
they desire more clarity in order to make choices in their life;
they want to identify their core strengths and how to leverage them.
7. How Can Someone Ensure They Benefit From Coaching?
The ICF provides guidance on the behaviors a client can adopt to get the most out of coaching.
Here are some its key ideas:
Focus on yourself and your own success.
Embrace tough questions and hard truths.
Observe the behaviors and communications of others.
Listen to your intuition, assumptions and judgments.
Understand the way you sound when you speak.
Challenge your existing attitudes, beliefs and behaviors.
Develop new attitudes, beliefs and behaviors that better serve your goals.
Take decisive actions, no matter how uncomfortable they might seem.
Show yourself compassion and maintain composure while learning new behaviors and experiencing setbacks.
Commit to not take yourself too seriously.
Continuously engage in self-examination to identify your strengths and weaknesses.
Have the courage to reach for more.
FREE Coaching Tips!
Enter your email below to get access to my proven self-growth tips and strategies!
8. What Can You Expect From An ICF Coaching Certification?
I have recommended the 9 Best Life Coach Certifications Online ICF Accredited, so check out my article on that if you're looking for an ICF certification.
There are three different ICF-accredited coaching training programs you can take.
These are:
Accredited Coach Training Program (ACTP)
This training includes at least 125 hours of coach-specific training, including comprehensive instruction around the ICF Core Competencies, Code of Ethics and the ICF definition of coaching. You'll also engage in observed coaching sessions, mentor coaching and a comprehensive final exam.
Approved Coach Specific Training Hours (ACSTH)
This coach training program includes a minimum of 30 hours of coach-specific training, including instruction around the ICF Core Competencies, and observed coaching sessions.
Continuing Coach Education (CCE)
This coach training program is for professional coaches who already have ICF credentials or have completed basic coach training. A CCE training program tends to expand on the basics of the ICF Core Competencies, and cover other coaching skills that contribute to their professional education, such as personal development or building a life coaching business.
After You've Finished Your Training…
Once you've completed this training course and at least 10 hours worth of mentor coaching in a three-month period, you have to apply directly to the ICF for your certification. This costs you a one-off fee, although ICF members get a significant discount.
There are three types of ICF credential you can apply for:
Associate Certified Coach (ACC)
60+ hours of coach training to apply
100+ hours coaching experience
$100 for ICF members or $300 for non-members
Professional Certified Coach (PCC)
125+ hours of coach training to apply
500+ hours coaching experience
$300 for ICF members or $500 for non-members
Master Certified Coach (MCC)
200+ hours of coach training to apply
2,500+ hours coaching experience
$575 for ICF members or $775 for non-members
For a more detailed overview of what you can expect from International Coach Federation (ICF) certification, see this article: ICF Coaching Certification: A Complete Guide
9. What are the ICF Core Competencies?
The ICF Core Competencies are the essential strengths that trainee and professional coaches will be evaluated on during their training and throughout their careers.
The 11 competencies are:
Meeting Ethical Guidelines And Professional Standards
Establishing The Coaching Agreement
Establishing Trust And Intimacy
Coaching Presence
Active Listening
Powerful Questioning
Direct Communication
Creating Awareness
Designing Actions
Planning And Goal Setting
Managing Progress And Accountability
For a more detailed explanation of these competencies, see this article: ICF Core Competencies of Coaching – Easy Explained
10. What Is The ICF Code Of Ethics?
This is a document which explains the ethical guidelines that ICF credential holders should aspire to meet at all times.
There are 28 standards in this document, outlining a coach's responsibility to clients, practice and performance, professionalism and society at large.
To learn what these 28 standards are, see this article on the ICF Code of Ethics.
11. What Counts As Coaching Hours For ICF?
The ICF definition of coaching hours is important, as coaches will need to have registered a specific amount of them after their training begins to become certified.
A coaching hour is 60 minutes of coaching with someone who has paid for the experience. These hours can also be accumulated from group coaching, executive coaching, peer coaching or internal coaching in a workplace.
You cannot count coaching your direct reports at work, nor giving casual advice to friends as coaching hours. You also cannot count coach training classes or mock coaching sessoins, nor most pro bono hours. Coaching supervision and mentor coaching hours don't count either.
It's important to log your professional coaching hours. It will include the name of the client, their contact details, the date of coaching and the amount of hours (paid and pro bono). This log is not delivered by default with your application for an ICF credential, but it can be requested by the ICF to verify the amount of time you spent coaching others.
12. What Is An ICF Membership?
An ICF Membership grants professional coaches access to various resources that aid their development. Coaches are also granted permission to display their ICF membership badge on all of their marketing materials, which should help them to attract coaching clients.
To become a member, coaches must have an ICF coaching credential and pay an annual fee.
It costs $245, with membership expiring on 31 March of the following year. Your membership will be pro-rated monthly, depending on how many months are left of the membership year.
13. Who Are The ICF's Competitors?
There are other governing bodies in the coaching industry, which may have their own definitions of coaching which are somewhat different to how the ICF defines it.
Here, we focused on how the ICF defines coaching, because this body is widely regarded as number one in the world.
Its main competitor may well be another global body called the Center for Credentialing and Education (CCE). This body had been focused on delivering resources and credentialing for the counselling industry. However, it has recently introduced a Board Certified Coach (BCC) credential for coaches.
Coaches with ICF credentials can apply for the BCC credential by paying $100 and taking one exam. Some may choose to do this, if only to future-proof their credentialing.
However, at this point in time, there is no doubt that an ICF credential is the most important to gain when entering the coaching profession.
Related: (BCC) Board Certified Coach Vs. ICF – Complete Guide
14. How Effective Is Coaching?
The ICF conducted a detailed study to examine the effectiveness of coaching. In this study, an incredible 99% of those polled indicated they were somewhat or very satisfied with the coaching experience.
Almost 70% of participants said they had at least made back their initial investment, due to the personal improvements made during their time spent with coaches.
Some 86% of business coaching clients said the same, with 19% reporting a ROI of more than 50 times their investment. Executive coaching at the highest level can be particularly profitable.
Clients who achieve financial benefit from coaching can expect an average ROI of more than three times the amount they spend, according to the study.
Unlock Your Potential NOW!
Get FREE access to my self-growth area and achieve more fulfillment, success, control, and self-love!
Any More Questions About The International Coach Federation (ICF) Definition Of Coaching?
Thanks for reading my article!
I hope it gives you a thorough understanding of what to expect from life coaching and it contributes towards your growth, either when entering the coaching profession or as a client.
For a more detailed understanding of ICF credentialing, click the quick links listed above. If you have any further questions on this topic, feel free to ask it in the comments.
It would be great to hear from you.
Related Posts
I Don't Deserve To Be Happy – 11 Expert Tips To Change This
BEST Life Coaching Resources To Thrive