Napoleon Hill is one of the best self-help writers of all time, especially famous for his best-selling book, Think and Grow Rich.
So today, we'll dive into the most insightful Napoleon Hill books, getting to know what's so special about them.
You'll learn about:
The finest of Napoleon Hill's books
The full list of Napoleon Hill's books
Napoleon Hill's career and life
The most influential Napoleon Hill quotes
Let's get started!
Best Napoleon Hill Books Of All Time
Although Napoleon Hill's life has been met with much controversy, his books hold incredible principles you can apply in life and gain the success you want.
This book list is sorted based on the top reviews and their continuing relevance to the self-improvement needs of today's readers.
Let's go!
Unlock Your Potential NOW!
Get FREE access to my self-growth area and achieve more fulfillment, success, control, and self-love!
1. The Law Of Success
The Law of Success is an eight-volume work you can keep by your side all your life. It talks about not only material success but also other personal goals you can attain.
It all starts with having a definite major purpose or something you can call, your mission in life. The first law of success helps you determine where you're going so that the rest of the laws can help you reach there.
You can then move on to understand the role of self-confidence in your success where you determine and work to overcome your fears. You can then learn the habit of saving, why and how to be a servant leader, the power of imagination, and how you can share your soon-to-be reality ideas with enthusiasm.
And yet, that would be barely half of the rich volume..
He moves on to elaborate on the law of self-control which promotes concentration of efforts and cooperation with others for accurate thinking. Ultimately, the law of success in 16 lessons rests on the simple but powerful principle of "Treating others the way you want to be treated."
If you master the law of success, you'd be able to do great things or do small things in a great way. Either way, you live an extraordinary life.
2. Think And Grow Rich
Think and Grow Rich is not only Napoleon Hill's biggest selling book but also the world's top best-selling self-help book ever. It's sort of an upgrade to The Law Of Success, starting with a lesson-packed story of persistence you'll likely never forget. Let me briefly explain it –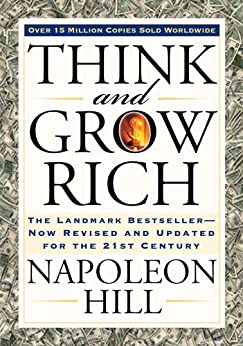 During the California Gold Rush of the 19th century, R.U Darby and his uncle went to Colorado to mine gold. With a few hand tools and weeks of labor, they discovered some traces of gold. So they silently went back home to get money and bought the necessary machinery for mining the gold.
But after a long time of drilling, they couldn't find the gold. So they quit what they felt was a pipe dream, sold their machinery to a junk man, and went back home.
However, the junk man called an engineer who made some calculations and told him that the gold was just three feet away from where Darby and his uncle quit drilling. And that's how the junk man became one of the richest men of his time.
Yet Darby's story doesn't end here. You can learn more from the book on persistence as Darby later learned so you can become extraordinary as he did in his time.
Napoleon Hill claimed to have sourced this famous work from successful men of his time such as Thomas Edison, Henry Ford, Andrew Carnegie, Alexander Graham Bell, Charles M. Schwab, and F.W. Woolworth among others. His research lasted 20 years.
This book tells more lessons apart from persistence, mainly targeting how to use thoughts to become rich. Here it goes:
You have to think you'll succeed no matter what – Fervid expectations ensure the consistent pursuit of personal achievement
Learn how to have a daily consuming desire to get you to your success
Master your subconscious mind to drive your fervid expectations
Deal with your fears
You need to acquire and organize specialized knowledge so you can create a product or service that truly serves others
You can learn more about the rich concepts in the book itself.
3. Napoleon Hill's Golden Rules: The Lost Writings
Napoleon Hill's Golden Rules is a book made up of a compilation of magazine pieces Hill wrote for the Success Magazine from 1919 to 1923.
This book focuses on how to leverage relationships for success plus Hill's general emphasis on the power of thought.
Hill talks about his habit of trying to emulate every desirable characteristic he found in people he met like fairness and courage. He also studied people he never met and took on qualities he felt would help him grow.
He uses Shakespeare's play, Julius Caesar to show us the possibility of solving the world's hardest problems by convincing people with the truth even when they've been constantly brainwashed by lies.
4. Outwitting The Devil: The Secret To Freedom And Success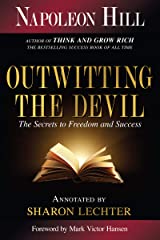 Outwitting The Devil is not a title you'll commonly find in the self-help genre. And it's not just a title but a real pursuit for outwitting the devil so you can achieve success.
It probably doesn't sound fitting for the non-religious types but in this case, you're free to view the devil as the inner self-sabotaging voice or God's adversary himself. So whatever religion you subscribe to, this book can help you break through detrimental patterns to gain a fulfilling life of your definition.
You'll find 3 main lessons in this book, namely:
We build our lives from two main foundations: Faith or Fear
The devil desires to ensure we drift through life aimlessly through fear
Using the hypnotic rhythm to change our habits and change our lives
Disclaimer: You might find the edits of Sharon Lechter irritating despite her efforts to break the "devil's code" for the contemporary audience.
5. The Master Key To Riches
The Master Key To Riches is an easy-to-read guide outlining the hidden methods of making money from Andrew Carnegie, one of the top richest men in Hill's time. Mainly it highlights "going an extra mile" in everything one does if one wants to guarantee success in life.
Hill explains how Carnegie studied and rewarded the employees who went the extra mile, doing more than they were asked to for the greater good of the business. He reveals that nature always demands that we do more than necessary if we want to survive and thrive.
So if you want to succeed whether in gaining better relationships or more monetary rewards (Whatever your definition of success is), you have to go the extra mile in doing good without a guarantee of rewards.
And if you think about it it makes sense. The most legitimately successful leaders in any industry had to go the extra mile in one way or another. They did more than they needed to and eventually reaped rewards for it.
Of course, they're exceptions since many mean rich people got there by stepping over others. But Napoleon Hill teaches the virtuous methods of getting not only successful but also happy.
To find more insights about the master key to riches, go after the real book.
Related: BEST Self-Help Books For Men
6. How To Raise Your Own Salary
How To Raise Your Own Salary comprises most of the dialogue Napoleon Hill had with Andrew Carnegie. While many other Napoleon Hill books contain the conversation nuggets with Carnegie, this is like a compilation of their original conversation.

They mostly talk about using collaboration through a Mastermind Alliance to get all the skills and knowledge in an organized manner so you can produce quality products or services efficiently.
The book might test your patience with long dialogues though, but it's all worth it if you mean business with this self-improvement stuff.
Whether you want to focus on one of Napoleon Hill's books or are looking to explore them all, this volume would be a great addition to your personal development arsenal.
7. Success Through A Positive Mental Attitude
Success Through A Positive Mental Attitude is a classic work of Napoleon Hill and Clement Stone, an American entrepreneur and self-help author in Hill's time.
While this book mostly builds up on Think and Grow Rich plus The Law of Success, you can think of it as a positive psychological spin on Hill's golden rules to success. It delves deep into the power of positive thinking with anecdotes that help transform your mindset into the positive.
If you've read Hill's other work, this may seem like a repetition of his philosophy. However, you never know the nuggets in it that could make your mind tick.
Ultimately, this is a worthy book for all facing a negative mental attitude as the main obstacle to success.
8. Grow Rich! With Peace Of Mind
Riches aren't everything. But with peace of mind, you can actually enjoy a life of fulfillment you've always dreamt of.
Grow Rich! With Peace Of Mind is like a wiser version of Hill's classic Think and Grow Rich. Written towards the end of his life, this book seems to come from many sobering discoveries in the author's life – that you can gain all the life's riches you want in life but while you're at it, get peace of mind.
Here you'll not only learn how to reach success but also how to turn every failure into success (probably wisdom from his experience failing and regaining success).
Moreover, you're reminded to focus on your values now since:
"Peace of mind helps you live your life on your own terms, in values of your own choosing, so that every day your life grows richer and greater." Napoleon Hill in Grow Rich! With Peace Of Mind
9. The Magic Ladder to Success
If you want a short punchy version of Think and Grow Rich plus some additional nuggets to help you live a fulfilling life, The Magic Ladder to Success should be your go-to choice.
While its title is too over the top, it has amazing insights for achieving whatever you deem as success – whether it's a million dollars or being a happy family man/woman raising confident kids.
Just like other Napoleon Hill books, you'll find details of spiritual dimensions that you can choose to ignore (if you don't like religious insinuations) and yet get incredible insights to live a life that counts.
Related: Best Books on Self-Discipline & Self Control
10. Napoleon Hill's Positive Action Plan
Do you find it hard to follow through with self-help advice systematically? Napoleon Hill's Positive Action Plan could be your long-awaited answer.
While it's you should note that this book isn't authored or arranged by Napoleon Hill himself, it's owned by Napoleon Hill Foundation which packs his golden rules in easy-to-digest home study courses focusing on different themes.
Positive Action Plan is a 365-day self-improvement plan that helps you unpack your overall definition of success daily, a process that helps Hill's laws of success stick. Plus you can share your journey with other like-minded individuals for more motivation.
And if you're a critical thinker feeling skeptical about delving into Hill's work, this is an amazing opportunity to experiment whether his ideas truly work. As long as you practice this 365-day exercise faithfully, you'll sure get your results. And I'm pretty sure they'll be positive.
11. The Prosperity Bible
We saved this for last since it's a collection of self-help books from the finest success minds in a book. So it's rightfully called The Prosperity Bible.
It contains the works of Napoleon Hill, Benjamin Franklin, Dale Carnegie, Wallace D. Wattles, James Allen, and Francis Schovel Schinn to name a few.
If you want to get this bible, you must be ready to dig into as much extensive and intensive knowledge regarding the art of getting money, success, and happiness so you can make widely informed decisions.
Overall, I'd advise you to get acquainted with at least one of Hill's works before you dive into this self-help minefield.
Related: Best Life Coaching Books You Should Read
Napoleon Hill Books In Order In Order Of Popularity – Full List
The following list of Napoleon Hill books has been arranged in rough order of their popularity according to customers across the web.
Keep in mind that many of these are a result of the compilation and organization of Napoleon Hill's work by people other than himself. So here it goes:
Think and Grow Rich
Outwitting the Devil
The Law of Success
The Prosperity Bible
Napoleon Hill's Positive Action Plan
Napoleon Hill's Golden Rules
How to Own Your Own Mind
The Master Key to Riches
How to Sell Your Way Through Life
How to Raise Your Own Salary
The Magic Ladder to Success
Success Through a Positive Mental Attitude (with W. Clement Stone)
Grow Rich!: With Peace of Mind
You Can Work Your Own Miracles
The Path to Personal Power
Succeed and Grow Rich Through Persuasion
The Positive Side of the Street
What Was Napoleon Hill's First Book?
The first book ever published by Napoleon Hill himself was The Law Of Success in 1928. It was a somewhat rags to riches type of self-help advice Hill draws from Andrew Carnegie during their conversations. The success formula was later published in a series called the Mental Dynamite around 10 years later as Napoleon Hill was preparing himself to write Think and Grow Rich.
Napoleon Hill Books Think And Grow Rich
So what's the deal with this Think and Grow Rich book that made Napoleon Hill a timeless success? Read on to find out its purpose, legitimacy, and whether it's worth your time.
What Is The Purpose Of The Book Think And Grow Rich?
According to Napoleon Hill, Think and Grow Rich had the aim of simply helping the reader become more aware of the human potential and nature plus the unchangeable laws of the universe that bring or hinder success.
Is Think And Grow Rich True?
Think and Grow Rich has many rich insights backed by science that when followed can help someone truly think their way to gaining riches. It influences you to become an action taker in areas that drive success most including having a mission, cultivating an all-consuming desire for it, practicing self-control, and also creating a mastermind alliance for collaboration.
Is Think And Grow Rich Worth Reading?
Think and Grow Rich is worth reading if you want to change your life story from that of mediocrity to one of extraordinary success whether in the small or grand scheme of things. It shows you realistic and psychology-backed tactics for becoming effective in a world of unchangeable rules for gaining success. It surpasses famous self-help books like Rich Dad Poor Dad.
Related: Smartest Self Awareness Books
Napoleon Hill The Law Of Success
Hill began writing self-help books with the first being The Law Of Success. It contains 15 success laws that revolve around what all of hill's works insisted upon. They include:
A definite chief aim
Self-confidence
Habit of saving
Servant leadership
Imagination
Enthusiasm
Self-control
The habit of doing more than paid for
Pleasing personality
Accurate thinking
Concentration
Co-operation
Profiting by failure
Tolerance
Practicing the Golden Rule
These laws are irresistible, right? If you wish to have a life well-lived(whatever that means to you), this book will be of great influence.
What Was Napoleon Hill's Net Worth?
Around the time of his death, Hill's net worth was estimated at around $1 million. However, he claimed that he wasn't paid for interviewing all these successful men but ended up making more millionaires than the likes of Andrew Carnegie.
But is all this true? Learn more about the life of Napoleon Hill below from another perspective.
The Unpopular Life Of Napoleon Hill
Without getting into much detail, I wanted you to get a glimpse of what Napoleon Hill's reputation is like according to sources other than the man himself. See, many people have learned from Napoleon Hill's books that he was an admirable man who pursued all the amazing characteristics he outlined in his book.
But based on the testimonies of people other than Napoleon Hill himself, the man was a scam artist based on the following reports:
He had several charges of fraud from the beginning of his life to the end
He failed miserably financially by avoiding responsibility to his family, taking loans recklessly, and failing to save the amount he earned from time to time
He faced a couple of divorces with reported domestic violence on his part
He had an unpleasant personality according to his associates
All the sources he claimed to have sourced his advice from never mentioned his encounters with them according to their biographers – except Thomas Edison who met him to receive an award Hill promised
He went to law school, and quit shortly after but used the title "Attorney at law" his entire life.
This is just a brief of the untold story of Napoleon Hill according to Paleo-Future and other sources who provided evidence.
As mentioned at the beginning of the article, Napoleon Hill seems controversial in many ways since there's too much evidence of his crooked ways. But you're the one to choose whether you believe his content. But before you do, hear me out some more.
While a man might fail to practice the gold they teach, you can put their rich advice into work and get extraordinary results from it. After all, a person can be controversial in their ways and yet right in their perspectives.
And hey, many successful people have reached there with the help of Hill's advice. You can too. Just by following the golden rule "Do as they say, not as they do."
Most Powerful Napoleon Hill's Quotes
"If you cannot do great things, do small things in a great way."
"A goal is a dream with a deadline."
"Action is the real measure of intelligence."
"Opportunity often comes disguised in the form of misfortune, or temporary defeat."
"It is literally true that you can succeed best and quickest by helping others to succeed."
"Most great people have attained their greatest success just one step beyond their greatest failure."
"Great achievement is usually born of great sacrifice, and is never the result of selfishness."
"The man who does more than he is paid for will soon be paid for more than he does."
"You may be hurt if you love too much, but you will live in misery if you love too little."
Unlock Your Potential NOW!
Get FREE access to my self-growth area and achieve more fulfillment, success, control, and self-love!
Final Word On Napoleon Hill Books
Napoleon Hill books contain almost every success tip you'll find in other self-help books combined.
He talks of developing positive thinking, self-discipline, self-confidence, and mastermind group coordination skills among other positive psychology concepts.
Ready to learn more from Hill's best-selling books? Check them out for more in-depth lessons. And don't forget to share this piece to help others also learn from his legendary works.
Related