A career coach online or offline can help you navigate the job market, highlight your unique skills, and become a professional donut taster (aka get the job of your dreams).

Does the world of work = "OUCH!"?

How happy are you to wake up and head to work on Monday morning?
Are you STILL searching for the right job after three months of interviews and cover letters?
If you feel unsatisfied with your employment situation, you're not alone. Studies have shown that about half of Americans are not happy at work.
Does it have to be so complicated to walk the career path of your dreams?

Maybe we are just getting collectively fed up with bagels and casual Fridays?
Of course not, those things are awesome…
Career Coaching FAQ Section

1 – How Much Does It Cost for a Career Coach?

Career coaches typically charge by the hour. Expect to pay about $100 – $150 per hour. While there is no flat rate, usually, one session can cost anywhere from $75 to $500. If you're not a CEO, we wouldn't recommend paying more than $150 per session.
2 – Is Career Coaching Worth the Money?
Coaching services can be worth every single penny spent. The career advice you receive from a qualified mentor can be a turning point in your life.
3 – How to Find Career Coach Ratings Online?
To find the ratings of a career coach, take the time to check out available clients' testimonials, reviews, feedback, success stories, and rates.
4 – How to Find the Best Online Career Coach?
Track previous performance and evaluate a coach's professional account/ profile online. Look for proper credentials, certification(s), years of experience, terms of career coaching services, and carefully investigate the privacy policy.
5 – Does Career Coaching (Actually) Work?
Career coaches can help you excel on your career path like never before, as they possess invaluable coaching skills.

They will share professional guidance, help you with stress management, and time management.
Also, a career expert will grant you access to amazing strategies, assist you in planning changes, target career goals, embrace opportunities, and come up with new ideas.
6 – How Do You Become A Career Coach?
To get started in coaching clients on how to succeed on their career path, first obtain the needed certifications. Once you have the credentials, get down to marketing your business.
Questions, Results, Tips, Goals, Sessions Schedule, and More Insight
Do you want to learn how to:
1 – Understand the job market better than ever before?
2 – Self-evaluate your strengths and weaknesses and set the right career goals?

3 – Prepare for interviews in the best way?
4 – Draft letters of interest, cover letters, resumes?

5 – Conquer the world of work by achieving your goals while tackling any issue with no more stress or anxiety?
6 – Revamp your career goals (or change careers altogether)?
7 – Seek further education/qualifications? Enroll in a legitimate career coach certification program and learn from the top experts in the area? (Becoming a certified professional career coach (CPCC) is easier than you think.)

8 – Network your existing business like a ninja. Or start a brand new business?

9 – Master the secrets of social media marketing?

Start your online career and pave your path to success?

Navigate Twitter, Facebook, Instagram, Youtube, Linkedin, and other resources like a pro?
If your answer to any of these questions is YES, then booking a session with a qualified expert may be of GREAT help to you.
Before you continue with the selection process and shoot countless emails, go through numerous call sessions (or maybe even dial the wrong phone number), let's quickly see what professionals can ACTUALLY help you with.

FREE Coaching Tips!
Enter your email below to get access to my proven self-growth tips and strategies!
Do you wish to:

Get clarity in your career
Achieve work-life balance
Nail that job interview (FINALLY)
Join the "Chosen ones," aka ex- job seekers living their best life
Become better at employees and/or companies' management?
Ultimately, career coaching DOES work.
But finding the right professional to collaborate with is often a daunting task.
Check out the list of top-performing career coaches online below.
And get 1 HUGE step ahead in your action plan to flourishing career development.
The experts that made it into this list were evaluated based on the following criteria:
Value and clarity of their services
Position in Google rankings
The specialty of the service provided (unique area of expertise e.g. focus on writing a resume, writing a cover letter, executives leadership development services, etc.)
Website quality
Published books
Schedule an online assessment/ session options
Packages and discounts
Ease of contact
Coaching skills
Success stories of previous experience with counseling clients (reviews)
A variety of "book a session" options available
It is time to overcome the issues on your career journey.

Change your professional life for the better.
Become that someone who is proud to say work-life balance IS fully achievable by everyone and anyone.
Increase your company's revenue.
Overcome limiting circumstances.
Raise your positions in the job market.
Get the salary that matches your skills.
Contract new partners.
YES! Let's do this.
Top 27 Best Career Coaches List
Certification(s)
✔️Certified Career Management Coach
( +writing a resume, cover letter pro skills)
Certification(s)
✔️Therapist, Life Coach and Career Coach
(+ millennials niche expert)
Certification(s)
✔️Certified professional career coach
(+ top resume expert)
Certification(s)
✔️Master's in Technology, Innovation, and Education from Harvard University
Has advised men and women, aged 18-67, in all industries, from 30+ countries.
Certification(s)
✔️Career integration coaching
(+ free 30-minute phone consultation)
| | |
| --- | --- |
| Certification(s) | ✔️Career Coach, Life Coach & Therapist (+ face-to-face career counseling in Fort Collins and Broomfield, CO) |
Certification(s)
✔️Certified career coach
(+ motivational speaker and author of 18 books)
Certification(s)
✔️Certified career coach
(+ TedX talk "Three Questions to Unlock Your Authentic Career")
Certification(s)
✔️Clinical psychologist and Life coach
(+ executive coaching)
Certification(s)
✔️Executive coaching
(+ first 30 days of her program offer 100% money-back guarantee)
Certification(s)
✔️Narrative Career Coach
(+various workshops and events)
| | |
| --- | --- |
| Certification(s) | ✔️Professional Certified Coach (+monthly coaching package) |
Certification(s)
✔️Certified Career Coach
(+resume writing)
| | |
| --- | --- |
| Certification(s) | ✔️Certified Career Transition Coach (+interview and resume skills polishing) |
The Art of Self-Exploration: Heads Up Before You Contact an Online Career Coach
Before you book a session or assessment, please always mind the #1 of the action steps.
When taking advantage of careers coaching (or ANY other service possible), remember:
This is a STRICTLY personal choice!
Now, let's get back to the list of top world job hunt gurus and career therapists.

Certification(s)
✔️ACC (Associate Certified Coach), ICF (International Coach Federation)
(+ corporate and individual services)
Certification(s)
✔️Certified Life Purpose and Career Coach
(+ monthly mastermind program, radio show host)
Certification
✔️Certified Career Coach, Trainer and Speaker
(+ featured in The New York Times and The Wall Street Journal, among others)
Certification
✔️Certified Executive Coach
(+ professional and personal transformation life coach)
Certification
✔️Certified Career Coach
(+ #1 Wall Street Journal Bestselling Author, author of a weekly column for Forbes)
Certification
✔️Executive and Leadership Career Coach
(+ emotional intelligence coach)
Certification
✔️Masters in Career Counseling with 25 years of experience
Certified in MBTI and Life/Career coaching
30-minute free introductory session
Certification
✔️Certified Career Coach
(+ youtube Client Interview Series 2023)
Certification
✔️Certified Career Coach
(+ leadership and manager training, teamwork, conflict resolution)
Certification
✔️Executive Coaching
(+ small business coaching; proven process that uses a variety of programs and tools )
Certification
✔️Former HR Executive
(+ Interview Coaching and Resume Writing pro)
Certification
✔️Women- targeted Career Coach
(+ author, keynote speaker, women leadership trainer)
#27 – Trisha Scudder and Herma Schmitz (Executive Coaching Group – pioneers in the niche, founded in 1987 in New York)
Certification
✔️A team of certified career coaches
(+ top executive and CEO coaches; Skype or other online streaming method of communication)
What Does a Career Coach Do to Help You Achieve Your Goals?
Help you understand how to play the game: The rules of the game are the same. Writing a good cover letter or learning how to navigate online job boards can boost anyone's ability to find a career, no matter the industry. Learn these skills, and you instantly gain more confidence and perspective.
Help you understand what kind of player you are: Everyone wants to be the quarterback. But if you're a natural kicker, you probably won't get the job (or simply won't like it). Sometimes, we need help to understand our strengths and the type of tasks we find fulfilling. Combine these, and you'll be able to pick a job you actually want to do.
IMPORTANT NOTES:

Everyone's situation is different.

The approach your coach takes will depend on your needs.
Career coaches do thorough research and plenty of planning for each client.

So, you can be sure they'll be prepared to deliver results when you meet for your sessions.

10 Awesome Reasons to Hire Career Coaches
You can't find work: You're qualified but can't seem to land a job? Then there's a missing piece of the puzzle. A coach can help you better explore your options and optimize your presentation.
Interviews are your worst nightmare: Many of us (if not EVERYONE of us) hate interviews. However, the people who succeed at interviewing are much more likely to get the job. You may never love interviews, but a career coach can train you and help you practice. Ultimately, your next interview may be your last.
You're ready for a change: Are you a desk jockey who's always wanted to be an exotic bird trainer? The time to seize your dream is now! A career coach will do the research to show you the road.
You're not happy at work: Ok, so you're one of many that aren't thrilled about their 9-5. You may not know how to remedy your situation, and that's fine! Whether it's shifting your perspective or making a big change, your coach will show you possibilities you never knew existed (e.g. Did you know that you can ask your manager if you can work at home? And did you know that they'll probably say yes?).
Networking gives you night sweats: For some of us, talking to strangers and industry peers is PAINFUL, right? Networking is certainly not a forte for all of us. A coach won't make you shake sweaty hands with another suit. Instead, they'll help you find a way to network that vibes with your personality.
You think social media is a fad: Social media is here to stay, and it will make or break what employers think of you. If your professional reputation isn't plastered all over the internet (and maintained meticulously), you are losing precious opportunities. Join the 21st century online revolution!
You want a promotion/raise: Your coach will help you excel in your current position, and better yet, they'll share the secret of getting noticed for each of your accomplishments.
You need to go back to school: Going back to school is a huge commitment, and it can be expensive too. Therefore, consider collaborating with someone to help you manage your time, nail important internships, and catch the eyes of employers.
You want to break free: Ready to break out of the office and start your own business? Well, there is A LOT you need to know about management, networking, marketing, sales and more. It can get complicated, but with some assistance you can keep your career in perspective and understand how to overcome each new challenge.
You need application assistance: Even if you're confident in your skill set, you can still benefit from tightening up your resume, cover letter, and other aspects of the career application process can make a big difference. One session may be enough to turn an average portfolio or cover letter into a great one.
The Real Deal: How to Find the Perfect Match?
Before you Google "career coach near me," let us share with you the right (and easy) way to find the best match.
Ask Around
The best way to find a great counselor?

Find real people that have used their services.

Talk to family, and/or a friend; they're sure to toss out some names of a qualified coach (or coaches).
Call a Nearby College
Colleges and universities have entire departments responsible for helping students find employment.

Even if you aren't (or weren't) a student, they can give you tons of references.
Go to the Source
Head to the website of the National Board of Certified Counselors and do a search in your area.

These counselors are fully vetted and guaranteed to be licensed and certified.
A Million Dollar Question: How to Choose the Right Coach
How do you know which one in the list of potential coaches is right for you?

This is a good question because not all coaches are the same.
Look for Qualifications
Proper training is a MUST. Certifications and degrees show that an individual is more than just a motivator but a real specialist.
Look for a degree in counseling and/or one of these certifications:
CCSP (Certified Career Services Provider),
CMCS (Certified Master of Career Services),
CCC (Certified Career Counselor).
More about certification I will address later in this article.
Ask for References
If no one has much to say about your coach, that may be a red flag. Ask for references before laying your money on the table.
Talk About Coaching Methods
Every coach uses a certain method to get you moving in the right direction, but there isn't a method that works for 100% of clients.
Ask how your selected candidate is going to help you achieve your goals.
Ask if Assessment is Important
You need to learn from the steps you take to make your career flourish.
Remember, assessment should be a huge part of the coaching process!
Pay Attention to Rapport
What does interaction with the selected candidate feel like?
If you've only talked via email, make sure to give them a call or meet in person before committing.
Even the most highly decorated professional might not be a good fit if your interaction feels awkward.
Ask Laser-targeting Questions
If you want to find the perfect fit for you, you have to ask the right questions.
I created a pretalk checklist and questionnaire with all the important questions to ask.
Sign in the form below and get my FREE checklist.
FREE Checklist!
39 Questions to ask your potential candidates in a pretalk. Saves you 3 days of preparation and a lot of nerves. Find your perfect fit instantly!
The Different Fields of Career Coaching: Quick Overview
There are many different career coaching styles out there.

Below are some of the most common types, based on methodology and expertise.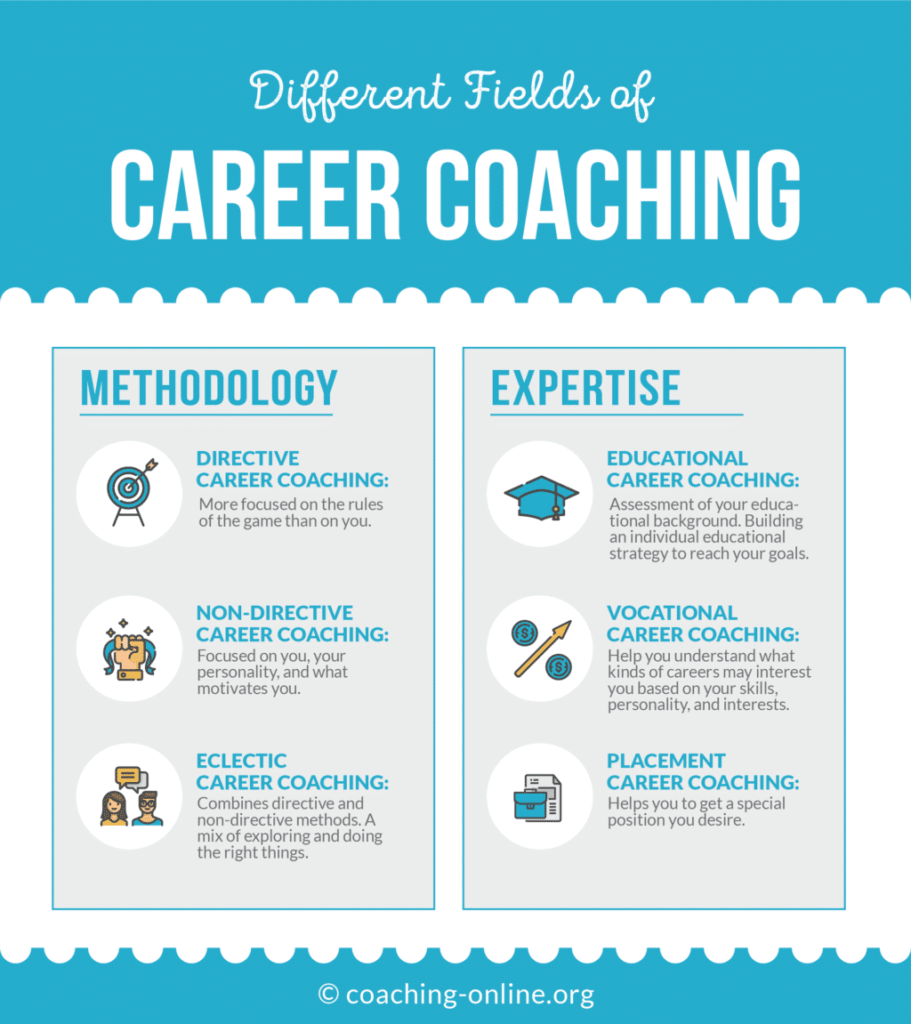 Methodology
Directive Coaching: This type of coaching services are less focused on understanding your hopes and inner-most desires. Directive coaching is less touchy-feely and recommended for those who need to learn to nail interviews, write resumes, and act confidently.
Non-Directive Coaching: This type of coaching services are more into exploring your personality and what motivates you. Looking for work? Unhappy at the office? Want to make a change?Then non-directive coaching is ideal.
Eclectic Coaching: A combination of the first two with other eccentricities thrown in. These coaching services are discovery-oriented. You'll be encouraged to explore and push your own boundaries in the world of work.
Expertise
Educational Coaching: The kind of counselor you'll find at a college, this professional will first assess your educational background. If you're a student or are interested in finding a job that corresponds to your degree, this type of coaching services is great.
Vocational Coaching: A vocational coach will help you understand what kinds of careers may interest you based on your skills, personality, and interests. They are specialists at building career paths.
Placement Coaching: You already have your eye on the prize? These coaching services will help you plan and prepare to get the job that you've always wanted.
Certification Programs: The Precise and Concise Answer to All of Your Questions
There are a number of universities and counseling boards that offer different certifications. Here are some of the best qualifications to look for in a career coach.
If your selected candidate has a different certification, that's ok. Just make sure to research the institution that accredited them.

What Makes Online Coaching A Wonderful Option for Clients
You can find a coach, check references, book sessions, manage payments – all from the comfort of your home, thanks to video chat and file sharing.

No more worry about traffic or rearranging your schedule.
Better yet, many career experts online are more affordable.

However, some people really need that personal touch. Sometimes, nothing can replace a face-to-face meeting.

Online vs. Offline: Which Way To Choose?
Polish your career-experts-hunt skills. Take a look below and get an idea of the differences.
Unlock Your Potential NOW!
Get FREE access to my self-growth area and achieve more fulfillment, success, control, and self-love!
Pros
Cons
Offline Coaching
Fewer distractions
More motivational
Better for personal development
Expensive
Time-consuming
Restricted pool of coaches
Possible wait times
Online Coaching
Convenient

Affordable

Thousands of coaches

Easy communication
methods (message, video chat, calling, etc.)
You are responsible for creating a positive sessions environment

Not appropriate for some tactics for interviews, networking, and other interpersonal skills
The Hidden Gemstone: Self-Coaching!
Ready to make your mark on the world?

Then all you need to understand the crucial career-finding game rules.
Check out the FREE Self-Career-Coaching Guide curated by real career coaches.Give the guide a click and a browse.
The info from the guide will be the perfect preparation for the type of work you'll do in your sessions (+ probably saving you a few sessions and a few hundred dollars too!).
The Final Countdown: Typical Career Coaching Questions To Ask
What are your expectations towards me as your potential coach?
What is the most important thing to you in life.Why?
What are you most proud of?
What have been your biggest successes in your past work life?
How do you define career success?
What is your goal for our session?
On a scale from zero to ten, how competent do you rate yourself to get there? (0=not competent at all, 10=highly competent)
Why do you want to reach this goal?
Why? (dig one level deeper…+ WHY?…)
What is standing in your way?
How did you try to find a solution?
What are you doing to NOT achieve your goal?
If your main obstacle disappeared overnight, what would your life look like?
What will happen if you don't take action?
Note: These are just a few wonderful examples of questions you should prepare for.
Behind the Curtains: Revealing My Personal Approach
Do You Feel Stuck?
In our career and professional life often our own perceptions and beliefs about ourselves push us to maintain the status quo.
Our subconscious plays a huge role in how we act and decide in our career.
I help my clients bring these unconscious patterns to their conscious mind, which gives them a new level of control and power to change.
My clients are mostly surprised by how effective the work with our subconscious is. See my client testimonials.
You Feel Tremendous Pressure?
Are you in a typical "sandwich" position (usually in the management sector)?

Do you have to deal with stress and conflicts between two parties?
You feel
tremendous pressure,
overstretched, and
close to burnout?
Mostly this happens when you are between different interests of your senior/boss VS. the employees that you are in charge of.
This is one of my specialties. I help you with effective techniques to deal better with these kinds of interpersonal conflicts.
Find Your Perfect Fit
Find your perfect career coach fit with my pretalk checklist.

Sign up in the form below and get my FREE pretalk checklist and questionnaire.
Related Blog Posts
How To Become a Career Coach – 6 Easy Steps
FREE Checklist!
39 Questions to ask your potential candidates in a pretalk. Saves you 3 days of preparation and a lot of nerves. Find your perfect fit instantly!