For CEO's, founders, and executives, it can get lonely at the top.
Without a mentor and accountability partner, many business leaders find themselves hitting the ceiling of what they can achieve. Leaders help management develop teams, and business coaches and consultants help develop leaders.
Business Strategy Coaching can act as a great resource for the growth of all types of industries. Keep reading for your complete guide to Business Strategy Coaching.
Let's dive in.
What Is A Business Strategy Coach?
With the thought of a "business coach," you might immediately picture cheesy motivational speakers, a cold hotel conference room, and equally terrible coffee.
However, Business Strategy Coaching can be the single most significant investment you make in your career or business. A Business Strategy Coach can help you make a radical shift, bring new insights to your company and your skills in management.
Simply put, Business Strategy Coaches or Consultants are experts that help entrepreneurs, influencers, and professionals achieve their goals more strategically.
Unlock Your Potential NOW!
Get FREE access to my self-growth area and achieve more fulfillment, success, control, and self-love!
They provide an outside perspective and develop strategies to help business management and leadership make decisions with greater perspectives and more clarity and confidence.
This is how a Business Strategy Coach can offer coaching support for management leadership in a company:
Create a safe space for people to clarify their thinking.
Create new choices and possibilities through observation and feedback.
Practice skillful language that empowers and creates accountability.
Understand the science of behavior change and what keeps people stuck.
Step into a learner mindset to self regulate and detox from judgment.
Turn limiting thoughts and language into breakthroughs.
Help people reveal what influences them in decision making.
Experience the powerful impact of clean language.
Hone and craft your virtual presence with clients on ZOOM.
Related: How To Become A Business Development Coach
How Do You Develop A Coaching Strategy?
Whether for a business professional struggling to earn a promotion or an entrepreneur unsure of their next move, the right business coach can set you on a lucrative path to success.
For large organizations, a coaching consultant is often the first person to come on board prior to delivering coaching services within an organization.
The coaches or consultants bring expertise to perform a needs assessment for your company or organization and advise you in creating a coaching program with a strategy that meets your requirements and budget.
The coaching consultants may also be essential at getting all the major stakeholders to discuss and buy-in to employing a coaching strategy approach in your company.
Once a strategy program is developed, a Business Strategy Coach executes on the coaching plan for growth.
​​​​As with any organizational project, you'll start with a strategy and plan. Be clear on questions such as:
What organizational challenges will the plan address?
Why does the business leader want to take this step?
What approach will you take; build the culture internally or work with external support?
What is the current culture towards coaching?
Knowing the answers to these questions will help you to develop a strategy that meets the organization's needs for planning.
The GROW Model is a simple yet powerful framework for structuring your coaching or planning sessions.
GROW stands for:
Goal
Current Reality
Options (or Obstacles)
Will (or Way Forward)
The model was originally developed in the 1980s by Business Strategy Coaches Graham Alexander, Alan Fine, and Sir John Whitmore.
A good way of thinking about the GROW Model is to think about the way you'd plan a journey.
First, decide where you're going (the goal), and establish where you currently are (your current reality). Then explore various routes (the options) to your destination.
In the final step, by establishing the will, you ensure that your CEO, executive or leader is committed to making the journey, and is prepared for the obstacles you could meet on the way.
What Are The Different Components Of A Coaching Strategy?
Researchers have identified five critical components of popular coaching models, as well as conditions under which coaching is most effective.
Here are the five critical components and why they matter so much.
1. The Coach-Client Relationship
The coach-client relationship is based on mutual respect and mutual pursuit of goals.
When choosing a coach, it is absolutely essential to determine upfront how well the coach and client communicate and how easy it is for them to work together.
2. Problem Identification and Goal Setting
Most coaching clients (and their organizational leaders) have some idea of which skills the client needs to work on most. Even so, the best coaches use multiple, proven assessment tools to verify this and to identify the client's strengths and weaknesses.
This process helps both coach and client develop the most effective ways to bridge skills, innovation and gaps and to further improve strengths.
3. Problem-Solving
The right problem-solving strategy for one coaching client may be completely different from that of another coaching client. That's why the assessment of strengths and skill gaps is so important.
Working with the CEO or other executives in companies to map out how to get from where they are now to where they want to be is a highly individual process. It must be tailored to the individual companies in the context of their work setting.
4. Transformational Processes
This is where the rubber meets the road. Just as the skilled pitching coach knows the specific elements a particular pitcher needs to work on, strategic coaching can help the client define specific actions that need to be developed and practiced until they become second nature.
The transformational processes used are uniquely customized to the client and their particular requirements. Without proven transformational processes, client improvement can be short-lived.
5. Outcome Definition and Measurement
The coach works with the client to define what success looks like.
Maybe "success" means fewer last-minute phone calls about who is responsible for what. Or maybe it means the entrepreneur has more free time due to letting go and effectively empowering team members rather than trying to do everything themselves.
The only way to know if a client has succeeded is to define what success means to the company through a strategy report.
Related: A Goal Without A Plan Is Just A Wish: 9 Steps For Effective Planning
What Is The Cost Of a Strategic Coach?
Strategic Coach is about you and your growth. You decide on your most important goals for executive coaching and on your game plan.
Strategic Coach provides the structure, tools, and support that give you a new perspective on your business and a fresh way of thinking — and keep you on track to turn your goals into reality.
FREE Coaching Tips!
Enter your email below to get access to my proven self-growth tips and strategies!
The annual fee for this premier entrepreneur coaching for top business owners is $10,000.
Here's what you get:
Your workshops with your strategy coach and a community of like-minded peers are a rare opportunity to get outside the day-to-day of your business to a place where big ambitions and dreams are normal.
At each workshop, you'll have plenty of time to focus on and strategize what's most pressing in your business right now as senior leaders — and get objective feedback from your coach and the other successful entrepreneurs in your group.
Fresh perspectives and breakthrough insights are inevitable with this sounding board, making it a mind-stretching, exhilarating day.
At the end of the workshop, you'll leave armed with new thinking and tools plus a plan with prioritized, concrete action steps to share with your team. New ideas are energizing, no doubt, but it's the clarity about the action steps needed that gets things done.
Workshop by workshop, you change the way you do things, the way you think, and the way you see yourself and your business. Your results improve, your freedom increases, and your opportunities expand.
Articulating which issues the participant will work on with their strategy coach like setting goals, and determining how to measure goal achievement keep the relationship on track to produce the best business strategy.
Independent surveys of the vast majority of Strategic Coach participants show that on average:
an entrepreneur's income will double within three years of joining the Program
free time doubles after only six months
quality of life improves dramatically
This is possible because participants are able to:
Greatly simplify their lives
Increase their focus and productivity
Strengthen their teams
Leverage their unique talents
​​Entrepreneurs benefit greatly from being with a peer group that shares similar issues and confidence levels, and has similar levels of resources available to get things done.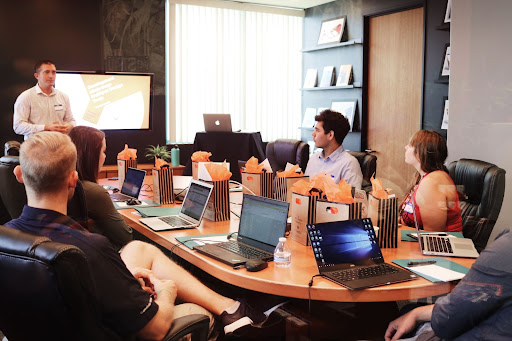 Brand Strategy Coaching
A brand is a promise from your business. Branding best practices are about defining and keeping this promise.
In a highly competitive marketplace, where products and services can be duplicated, enhanced and quickly deployed by competitors, a Brand Strategy Coach can help the team develop the company's brand to stand out with competitive advantage and save time.
Your business brand is a sounding board delivered through a series of customer experiences. These branding experiences are both intentional (like a successful service repositioning) and unintentional (like a negative experience with customer service).
A Brand Strategy Coach comes up with a strategy to help you identify how the business brand can become more motivating, relevant and to manage customer experiences so that they are "branded experiences" – delivering on the brand promise every time.
A successful business brand is:
Motivating to customers and employees
Credible
Single-minded
Sustainable
Differentiating
Deliverable
Life Strategy Coaching
Life strategy interventions exist whenever human beings use extraordinary skill to bring about positive personal and cultural change.
Nelson Mandela and Mahatma Gandhi are examples of being masters of strategy interventionists who transcended the particularities of religion, culture, institution, job description, or political philosophy.
What distinguishes Life Strategy Coaching from other strategy studies is the belief that certain holistic solutions "snap into place" when more people's needs are met, expressed, and elevated.
These strategy solutions actually deliver more benefit to clients for less effort.
The goal of a Life Strategy Coach is to use their expertise to integrate the core insights of these traditions into a method of practical strategic action.
This encompasses strategies that span from the belief systems and emotional patterns within:
An individual
Individual relationships
Group dynamics
Organizational
Cultural
A trained Life Strategy Coach navigates these different arenas with ease because of their expertise and knowledge in their clients' requirements.
Strategic Coaching Model
A Business Strategy Coach employs a highly customized process using their knowledge and expertise in strategy to build business leadership, designed keeping in mind the following primary factors:
Entrepreneur's mindset
Shareholder's risk taking ability
Organization capability
Organization vision and goals
Organization succession
An effective strategy coach doesn't doesn't let the processes sit on a shelf. They become part of the dynamic in the room – flavoring every conversation and decision with a specific strategy for the clients.
It is not found by locking your team into a weekend retreat, so you can do some brainstorming and fill out a few templates.
Effective strategic coaching is an ongoing, long-term conversation into big and evolving questions like:
What is our business and what could it be?
What does the organization stand for and what does it actually do?
Who are the human resources we need for our future?
Who do I need to be as a leader to pull this all off?
Stages Of Business Strategy Coaching
The above factors answer a lot of questions, which easily help to design the basic business strategy coaching process and help determine the direction you wish to set for the leadership of the organization.
The 5 Step strategy coaching process:
Assess the current situation – Gap Analysis – What needs to be addressed?
Set goal matrix – Where to reach? Define the final milestone – The Vision
Action Plan – How to reach? What sequential steps need to be taken? How to address and develop the en-route challenges
Execution strategy – Who will do, by when? Team empowerment – Authority, Accountability, Responsibility
Goal Achievement – Where & When did you reach? Analyze performance
Set simple, achievable and measurable goals. Move a step at a time. Progress your strategy continually.
Unlock Your Potential NOW!
Get FREE access to my self-growth area and achieve more fulfillment, success, control, and self-love!
Strategic Coach
A Strategy Coach is about you and your growth. You decide on your most important goals and on the strategy to develop for your future.
The Business Strategy Coach provides the knowledge, structure, tools, and support that give you a new perspective on the management of your business and a fresh way of thinking — and keep you on track to turn your goals into reality.
As a CEO or executive you are the leader who is the driving force of your organization and are responsible for its future direction, growth and success.
Developing a career as a leader includes strategies and ideas that empower you to pursue your vision with confidence, make value based decisions and inspire your teams to align to the vision.
Discuss the difference and value a Business Strategy Coach can make with your CEO, executive or management team.
Then forward this article ✅ to another executive that could be interested in developing innovation.
Related Posts
BEST Life Coaching Business Models To Start Online
How Much Does A Business Coach Cost?